President Abinader will lead the opening of the international event to be held at a hotel in Punta Cana.
The Dominican Republic is hosting the XXV Iberoamerican Free Zone Conference, an event that brings together delegates from 21 countries and whose opening will be led by President Luis Abinader and the Minister of Industry, Commerce and Mipymes, Víctor Bisonó (Ito).
The international event to be held in Punta Cana, this December 1 and 2, is organized by the Free Zones Association of the Americas (AZFA), the Ministry of Industry, Commerce and Mipymes (MICM), the Dominican Association of Free Zones (Adozona) and the National Council of Free Zones for Export (CNZFE).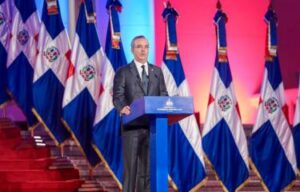 Bisonó described this meeting as the most important for the free zone sector in Ibero-America, due to the summoning of experts, businessmen, investors, government entities and suppliers of this industry from more than 21 countries and two continents to analyze the current situation, advances, innovations, best practices, trends and future challenges of the sector.
The conclave will address topics on technology and innovation, integration, sustainability and resilience, and future challenges of free trade zones, key catalysts of the economy.
Learn More: ECONOMY