Monster Jam, the world's most action-packed family motorsports experience, arrives in Santo Domingo for an adrenaline-filled weekend at the Olympic Stadium. Celebrating its 30th anniversary, Monster Jam features world-class drivers locked in intense competitions of speed and skill.
Tickets will be available at www.tuboleta.com.do and Spring Center. Presale starting Monday, September 19 for VISA BHD cardholders with a 25% discount and general sale starting September 27 with a 15% discount with VISA cards.
The event will be accompanied by the famous "Monster Jam Pit Party" where fans can see the huge trucks up close, meet their favorite drivers and teams, get autographs, take pictures and enjoy a fun-filled family moment. This unique experience is the space that allows people to get up close access to the Monster Jam teams and get an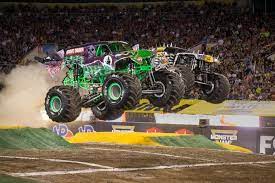 insider's view of how these trucks are built to tackle the competition.
"This was a dream of mine for many years, to do this event for the whole family. It is very satisfying to finally be able to make it a reality and bring it to our country so that all the fans of this incredible show can enjoy this experience to the fullest," said Saymon Diaz, producer of SD Concerts.
During the show, fans in the Dominican Republic will witness heated rivalries, high-flying stunts and fierce head-to-head battles for the championship of the event. Engineered to perfection, the 12,000-pound Monster Jam trucks push the limits in Freestyle, Skills and Racing competitions. In addition, fans can be part of the action by voting in real time from their phone for the winner in the Skills and Style competitions.
Monster Jam riders are world-class male and female athletes who have mastered not only the physical strength and mental toughness necessary to compete, but also the vital dexterity to control 12,000-pound machines capable of back flips, two-wheeled vertical skills and racing at speeds up to 70 miles per hour.
Details
Monster Jam comes to Olympic Stadium this Saturday, November 26. Tickets will be available for purchase at www.tuboleta.com.do. Presale: starting Monday, September 19 with a 25% discount with VISA BHD cards General Sale: starting September 27 with a 15% discount with VISA cards.
Learn more: EVENTS