"A challenge for the here and now is what humanity faces to try not to get lost forever in digitization," said Miriam Acosta, rector of UAPA (Open University for Adults), at the closing of the XXIII World Leadership Symposium in Santiago, Dominican Republic, on November 4.
Judith Moreno Berry, rector of the World University, thanked the more than 1,500 online attendees and 500 on-site attendees who attended the lectures, forums and various activities in which specialists from ten countries participated, including Argentina, Ecuador, Mexico, Cuba, Peru, the United States, Chile, Italy, Costa Rica and the Dominican Republic.
The event began on November 2 with a cultural tour of the city of Santiago where the Mexican delegation headed by the Universidad Mundial was received at the city hall with all the attentions of Mayor Abel Martinez Duran, followed by a cocktail party where the participants enjoyed themselves for several hours.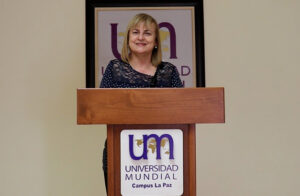 The inauguration was presided over by the Minister of Education, Ángel Hernández Castillo and the Vice Minister of Science and Technology, Genaro Rodríguez and the rectors and representatives of the organizing universities. For two days, academics, researchers and students from the various participating universities, organizations and institutions developed an extensive program of activities that included keynote lectures, simultaneous thematic forums on: Leadership and education, Transformational leadership, humanistic and ethics, the new university in the intelligent society and health. Three works were also presented; one scientific and two literary works.
Subscribe here to the digital edition of El Sudcaliforniano
During the closing ceremony, it was announced that the World University will host the XXIV World Leadership Symposium to be held in La Paz, Baja California Sur, Mexico, in November 2023. It should be noted that when the event has been held in Baja California Sur, up to 1,100 people have attended. This is the only academic event that Baja California Sur has exported to different countries in its 23 years of existence.
Learn More: EVENTS