Dominican Designers
Glenny Denisse Hernández Bacó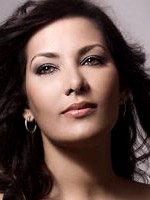 Glenny Denisse Hernandez Bacó is the second of seven children, daughter of Albert and Carmen. She was born in 1972 inSanto Domingo, Dominican Republic. She comes from a family of artists, including her younger sister Jeimi Hernandez, a renown professional model, and her aunt, Mercy Jacquez…
During the República Dominicana Fashion Week – RDFW 2010
The Dominican fashion week, called República Dominicana Fashion Week – RDFW 2010 is the event the most awaited in the world of national fashion, and the perfect place for Dominican designers to show their talent. An explosion of talent was observed during the Dominican fashion week, which took place at the end of April 2010.
Among the many Dominican designers, Glenny Denisse Hernández Bacó, better known as G Her Hernandez in fashion world, attracted the attention of many, with a wonderful collection of marine inspiration, with very feminine and elegant dresses.
The Dominican designer mainly focused on length and fluid dresses, which seem to be honoring the sea, with aquatic colors. Sometimes, some hot colors and floral patterns adorn this attractive and fresh whole.
The cocktail dresses are very nice too, with more structured cuts, that unveil the legs and the shoulders, for an elegant and summer style.
Glenny Hernández Bacó presented her first collection as a designer during the Fashion Week República Dominicana 2009, called Esencias del Mar. This is her second collection, and we anticipate it will be a true success.