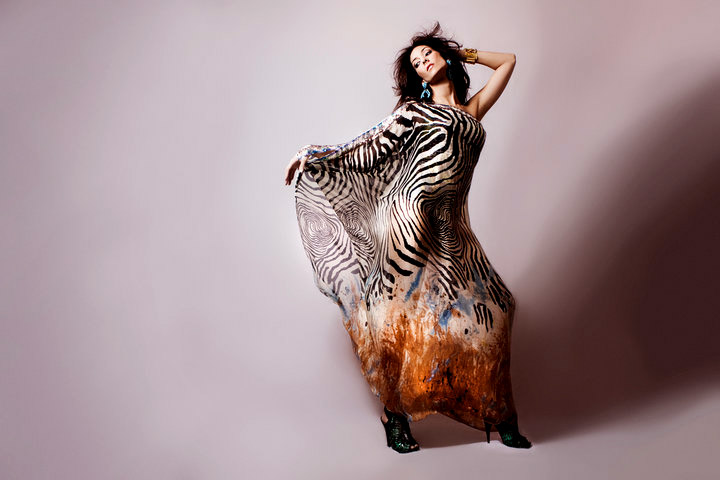 Glenny Denisse Hernandez Bacó is the second of seven children, daughter of Albert and Carmen. She was born in 1972 inSanto Domingo, Dominican Republic.
She comes from a family of artists, including her younger sister Jeimi Hernandez, a renown professional model, and her aunt, Mercy Jacquez, who was the first Dominican woman to graduate with a degree in Fashion and Design from Parsons University in the United States. Jaquez, upon her return to the Dominican Republic, founded the first school of design and fashion of the country, which is now known as the Mercy Jacquez Institute of Technology.
Glenny Hernández Bacó discovered her love of design, fashion and haute couture at the tender age of seven while visiting her aunt and watching every detail of the different designs, sketches, fabrics, threads, and finally, cuts to eachpiece that was made there. It was in this manner that she managed to make her first designs and apparel for her best friends at the time: her dolls.
At 17, Hernández Bacó convinced her parents to let her study fashion and design at the school where she grew up, the Jacquez Mercy Institute of Technology. Here she learned how to make art through fashion and design by some of the best designers in the country, including, Marcio Pena, Gianina Azar, among others.
She later obtained a degree in Marketing at the Pontifical Catholic University Madre y Maestra, Recinto Santo Domingo.
After college she worked at one of the biggest telecommunication companies in the country. This, together with her marriage and two daughters, forced her to put her career as a designer on hold for about seven years.
In 2007, Hernández Bacó returned to her passion for fashion and opened her own atelier, dressing famous Dominican models and working for Dominicans designers, such as, Luis Dominguez. Glenny Hernández Bacó presented her first collection as a designer during the Dominican Republic Fashion Week 2009, and hersecond collection in 2010.
The first collection was titled Esencias del Mar and was released under her own brand, G.HER. The second was called Brisa del Mar. Both collections drew their inspirations from marine life.
Dominican Republic Live