The summer 2009 for men
Jean-Paul Gaultier takes us back to the Far West time with his summer 2009 collection for men.
Very well done, the collection surprises and attracts.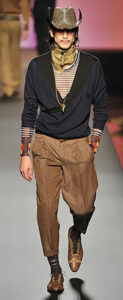 Hot colors, ochre, terracotta dominate the show, whereas the orange and yellow colors punctuate an original and retro collection.At the beginning of the show, the models are resolutely inspired by the cowboys, sheriffs and other figures of the Far West.




Then, as the models are ongoing, the looks become more elegant and wearable for the men in this summer 2009: the ties and collars appear whereas the hat is on all the heads.The mixing of the styles between modernity and charming cowboy is very interesting and super tempting !