The RD Fashion Week will take place from August 30 to September 4 at the Epic Center hall of the JW Marriot Hotel located in Blue Mall.
The city of Santo Domingo will be the fashion destination during the celebration of the thirteenth edition of the Dominican Republic RD Fashion Week (RDFW).
Designer Melkis Diaz, CEO of RD Fashion Week, said that promoting the Dominican Republic as a "Fashion Destination" projects the vision of the event. There, fashion, tourism and inclusion will come together. RD Fashion Week is giving continuity to the work being done hand in hand with people and companies that promote human value. This, regardless of ethnicity, social status, physical condition, state of vulnerability and other factors that influence social discrimination.
NATIONAL DESIGNERS
Several national designers will participate in the event. Among them: Giannina Azar, Cristian Lagares, Bianna Candelario, Jezmin Serulle, Vladimir Calpo, Tiffany Fermín, Lorenny Solano, María Calderón and Mariela Peña.
PARTICIPATION AND NOVELTIES
Fashion is evolving very quickly, added Melkis Díaz. This year, RD Fashion Week will have an internationally renowned academic partner, the Marangoni Institute. The educational center will participate with four graduate designers.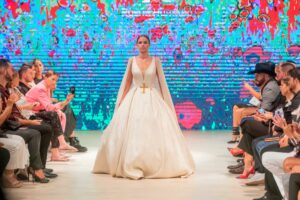 Likewise, during RD Fashion Week, the conference "Fashion in the metaverse" will be held. It will be aimed at fashion lovers who wish to learn about new technologies applied to the industry.
RD Fashion Week continues to consolidate itself as a fashion event of international dimension. This Fashion Week projects firsts and novelties to continue training and promoting our emerging talents.
TRIBUTE TO OSCAR DE LA RENTA
During the RD Fashion Week, fashion lovers will also be able to participate in a contest in tribute to the Dominican designer Oscar De la Renta. The emerging designer by province will create a piece inspired by Oscar De la Renta's iconic designs.
The contest will feature José Forteza, editor of Vogue Latinoamerica magazine; Kika Rocha, fashion director of People and Claudia Torres of HOLA TV. In addition, professors from the Marangoni Institute will award the winning designer with a scholarship to study a specialty in fashion.
COLOMBIA, GUEST COUNTRY
This year, RD Fashion Week will have Colombia as its guest country. In collaboration with the Colombian Embassy in the Dominican Republic, four outstanding Colombian designers will be presented to close each day of the fashion event. Likewise, designers from Costa Rica, Nicaragua, Peru, Miami, Nicaragua, Venezuela and Mexico will present their collections.
"Fashion is a creative activity that brings resources to all involved. Fashion Week, regardless of the country where it is held, represents an opportunity for local businesses. Especially for hotels, transportation systems, restaurants, stores, beauty salons, among others," concluded Melkis Díaz.
Also, within the inclusion program of the RD Fashion Week, there will be parades with a human and social component. Some of the categories are: people in wheelchairs, street children, seniors, large sizes, people with different abilities, etc.
PEOPLE DEPRIVED OF LIBERTY WILL PRESENT DESIGNS
In alliance with the Attorney General's Office of the Republic and the sponsorship of Banreservas Volunteers, the parade "For a second chance. In this parade will participate thirty women deprived of their liberty, who will present designs created by themselves in the different penitentiary centers of the country.
SPONSORS
This thirteenth edition of RD Fashion Week is possible thanks to the support of Banreservas, Ministry of Tourism, Prodominicana, A La Moda Magazine, El Nuevo Diario. Also, by JP Chenet, Supérate, Periódico Hoy, JW Marriot Hotel, Tacobell, Armonic Medicina Estética Avanzada, Lunare, Castillo Textil, Ltb Jeans, Rose Artdeco, among others.
Learn More: Events