Just change the straps of the tongs
We are thousands and thousands to use it every day in summer and all the year in Dominican Republic.
Easy to use, comfortable and ventilated, the tongs are the perfect allied of the beach, the hot summer evenings and the short summer skirts.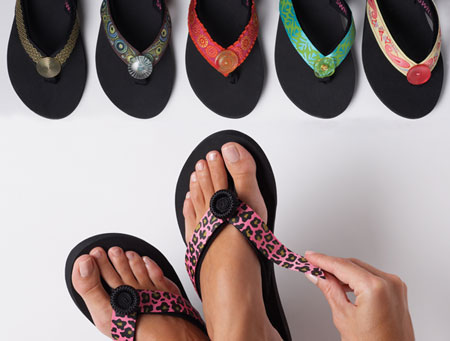 There is only one problem, we have to choose between all the models and we must resist the sweet temptation to have 30 flops pairs at home, for every occasion, every evening, and in order to use a different one every day.

With the Switchflops, there will be no more dilemmas since you will just have to change the straps of the tongs…
More than 50 different models are available to allow you to change look without changing the complete flop.

Take the Switchflops extra straps everywhere with you and change them every time you want to !
Besides, the designs are very varied: So girly, or more sober, fashionable or elegant for a cocktail or a day at the beach, there is a few ones for all the desires and all the occasions…

The tongs cost between 32 and 37US $ and are available beiges, black, maroon and blue, and each strap costs 10 US $.