The new UNOde50 stores in the country are located in Ágora Mall and Galería 360.
The exclusive Spanish jewelry brand UNOde50 opens its doors in the country with a launching event held at El Loft de La Bodega, this past Tuesday, October 18, adding two new stores to its successful franchise.
In a three-course pairing dinner with special guests, all the details about this successful brand and its arrival in the Dominican Republic were revealed.
UNOde50 is a jewelry brand born in Madrid in the late nineties, whose philosophy is based on the exclusivity of its pieces as a differentiating element, with handcrafted designs imbued with creativity, daring and attention to detail. Along with metal, the use of leather and other materials, such as colored crystals or pearls, define the brand's DNA.
UNOde50 jewelry started its history with the idea of creating 50 units of each design, hence its name. Over time, and thanks to the rapid success achieved, the brand increased production, although it kept its name to remember that, as the first day, the quality and originality of each design are its priority. In addition, to this day, the company continues to fulfill its promise of exclusivity by presenting limited editions of 50 units in each collection.
UNOde50 has as its emblem a small padlock with rounded shapes and handcrafted character that was created to symbolize the protection of exclusive jewelry and its unique design. Likewise, one of the characteristics that make the style of these jewels unmistakable is the hand engraving of its logo on each model piece.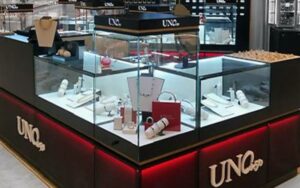 The UNOde50 portfolio includes 1000 models that are renewed every season with two new collections (spring/summer and autumn/winter) in which 200 new designs refresh the catalog. For this fall/winter 2022 season, UNOde50 has launched the IDENTITY collection, which represents the reflection of the women and men who make the brand's history their own, projecting strength, personality, boldness and confidence. The IDENTITY collection features eight sub-collections: Magnetic, Extraordinary, Radiant, Imperious, Shine, Hyptonic, UNO Men, Icons.
This franchise began its international expansion in 2008 with openings in Miami and Paris and, since then, its expansion around the world has been unstoppable. Currently, the brand is present in more than 45 countries and has more than 130 stores in major cities around the world: Madrid, Rome, London, Paris, Milan, Shanghai, New York, Miami, Los Angeles, Moscow, Mexico, Toronto.
The new UNOde50 jewelry stores in the country are located in the Ágora Mall and Galería 360 shopping malls.
Learn More: FASHION