In everything that has to do with travel, gastronomy is relevant, especially in these times when tourism has become the protagonist of the national economy. With these aspects in mind, Before Boarding has just established a strategic alliance with         .
The objective of this agreement, which has no expiration date, is to ensure that passengers not only receive a quality service while waiting at the José Francisco Peña Gómez International Airport of the Americas, but also live an experience between comfort and good food.
In fact, while announcing the alliance, Imad Al-Asmar, general manager of Before Boarding, also announced the opening of its new 'Sky The Lounge' lounge with a three-course à la carte menu. The other spaces will maintain a line of 'Classy Food to Go', always betting on the quality and good service that characterize the brand.
They emphasize that they have bet on the culinary talent of chef Erik, understanding that this is an added value that, together with the service vision of the establishment's representatives, makes possible a fusion that leads the customer to live that experience of well-being that Before Boarding provides.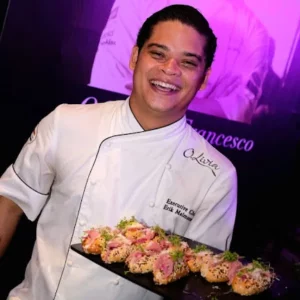 "The gastronomic proposal he has designed for our passengers is recognized for the exquisite preparation and presentation of each of the dishes served during breakfast, lunch and dinner," Al-Asmar said in a press release. In addition, they will be able to enjoy an a la carte menu with a concept of signature Mediterranean cuisine.
Variety in the menu
Precisely for people to live and enjoy a tasty experience is that they have rich dishes. In 'Sky The Lounge' you can eat à la carte. In the other rooms you can enjoy freshly prepared snacks, prepared by the kitchen team led by the expert in culinary art. "Those delicacies that are cooked in a comfortable and pleasant atmosphere are the ones that will awaken in our customers, the desire to taste them from dawn to dusk without ever having to leave the airport," they comment in the document.
This gastronomic proposal is accompanied by a selection of beverages, consisting of the best wines and sparkling wines, as well as a cocktail menu and natural juices that will also allow the achievement of a good pairing with the recipes created by the chef.
About Before Boarding
Before Boarding is the safe, quiet and comfortable space you need before or after traveling, whether for business, vacation, family, group or couple travel. While you enjoy or rest, Before Boarding's staff takes care of everything you need for your departure or arrival in the country. They transfer and locate your luggage, make your migration process completely private and accompany you at the time of boarding or disembarkation. During your wait, in the lounges you will find a distinguished atmosphere, a private and cozy environment with a wide selection of beverages and delicious food.
Erik Malmsten's background
With culinary experience gained in the kitchens of 1, 2 and 3 Michelin-starred restaurants in Europe and the United States, Erik Malmsten has been able to create unique and adventurous dishes inspired by what he sees around him. This professional, whose father is Swedish and mother is Dominican, has reaped many successes throughout his 18-year career. Such is the case that in 2005 he was a finalist in the 'World Cup of Chefs, Bocuse D'or' in Lyon, France where he represented Sweden, his country. In the Dominican Republic he has managed to position several restaurants among them O.Livia, Okazu, Odette and Odil.
Learn More: FLIGHTS