The air transport or open skies agreement recently signed between Canada and the Dominican Republic is an "important step" in bilateral relations and will have a "direct impact" in several areas, such as a greater capacity to protect users from "unfair price increases", said the Dominican ambassador to that country, Michelle Cohen.
Cohen, reiterated some of the benefits that the agreement provides for both nations, including the release of air frequencies, the possibility of integrating new airlines, also grants air traffic rights; strengthens the commitment and guarantees of aircraft safety, better service and ground handling for aircraft from or in transit to Canada.
"Another of the benefits that the government has highlighted after the agreement is the reduction in the cost of airline flights, a statement that Cohen corroborates by assuring that "a greater supply… demand has to be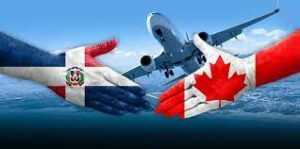 incentivized in the reduction of prices," he added.
According to the diplomat, the agreement also encourages airlines to offer promotional packages, as well as to look after the interests of users, for example, in the event of unfair increases in ticket prices.
"Governments have much greater capacity to protect the consumer and to have the capacity to verify prices that affect the final consumer, that is to say, that are unfairly increased," he explained.
He indicated that "such restrictions, which are generally caused by the abuse of a dominant position, both States will be able to intervene in them", according to Diario Libre.
When does it enter into force?
The agreement, signed on February 2, is awaiting the process of observations and ratification by both countries, which will give it the "force of entry into force". This process corresponds to the Canadian parliament and the Dominican Congress, explained the diplomat.
"Each country has its own time and process," said Cohen when questioned about the possible date on which the agreement could be implemented.
The signing of the open skies agreement between the Dominican Republic and Canada is a "manifestation that diplomatic relations have laid the foundations of trust" in the Dominican Republic and a "joint work" aimed at that goal, said Cohen, without wishing to reduce the efforts of each actor involved in a process, which, according to them, took about 14 years.
According to data from the Presidency of the Republic, between 2016 and 2021, trade exchange between Canada and the Dominican Republic amounted to US$4,123.6 million, of which 74% corresponded to Dominican exports.
In terms of tourism, Canada is the second largest issuing country of foreign visitors to the Dominican Republic, second only to the United States. In January 2023, 122,000 Canadians entered the country, representing 16% of the total number of tourists arriving in the country.
Source: Mitur.gob.do
Learn more: FLIGHTS