The Dominican Republic must still maintain the fuel prices of recent times, despite the drop in the international market, affirmed the Minister of Industry, Commerce and Mipymes, Víctor Bisonó.
Interviewed on the radio station Z-101, the minister said that the Government will maintain for this week the fuel subsidy, which already amounts to some 32 billion pesos (US$602 million).
He also said that the most important thing is that it was possible to maintain the aforementioned payment, without indebtedness, and also controlling inflation, which, if it were not for the aforementioned amount, would be six percent higher.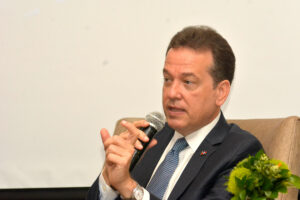 Bisonó clarified that the increase in the cost of fuels is not exclusive to the Dominican Republic and gave as an example cases such as Haiti, where its citizens staged protests in the streets for several days.
Finally, he pointed out that upon his arrival at the entity in 2020, the first thing he did was to create a Hydrocarbons Round Table and sit down all the actors of the system to review their complaints and contributions with the objective of having a strategic alliance with the productive sectors.
Learn More: FUELS