The Vice-Minister of Domestic Trade, Ramón Pérez Fermín, informed this Friday that the government will once again keep fuel prices frozen and explained that this week the closing prices of WTI per barrel oscillated between USD 74.30 as minimum value and USD 78.76 as highest quoted value.
The Vice-Minister assured that the market outlook "invites the government to look at the immediate future with reasonable optimism, while receiving this favorable behavior with prudence and caution. This is precisely what we have been doing since the first day of our administration, monitoring the behavior of the international market on a daily basis and, consequently, taking the appropriate actions.
"The subsidy program has been a planned, budgeted and transparent measure, which our government has put in place thinking first of the economy of every Dominican, to face the international price situation and take care of the finances of all households, mainly housewives, public transport drivers and workers, vulnerable sectors of our society", he added.
For the week of April 29 to May 5, 2023, fuels will be marketed at the following prices: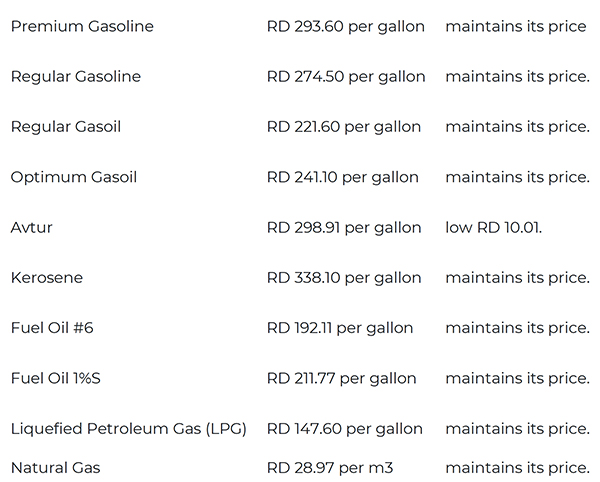 The average weekly exchange rate is RD 54.66, taken from the Central Bank's daily publications.
Source: Presidencia.gob.do
Learn More: FUELS