The "Agreement of Understanding and Cooperation between the General Directorate of Public Contracting (DGCP) and the Central American and Caribbean Federation of Pharmaceutical Laboratories (Fedefarma)" was signed in order to influence the acquisition of tools that allow the optimization of resources and to carry out innovative purchases and contracting that improve the quality of health services.
The agreement signed by the director of the DGCP, Mr. Carlos Pimentel, and the executive director of Fedefarma, Victoria Brenes, aims to work collaboratively to develop tools that will allow the incorporation of innovative purchasing mechanisms, also known as Managed Entry Agreements (MEAs), into the country's regulatory and legal framework.
In this way, Fedefarma makes available to the DGCP, technical knowledge that adds value for the sustainability and strengthening of the health system, and for the welfare of patients in the Dominican Republic.
The Managed Entry Agreements have been successfully applied in different regions around the world for more than 15 years, where they have demonstrated their benefits both for patients and for the health system in general. Some examples are Spain, the United States, the United Kingdom, Brazil and Uruguay, which have promoted access to therapies for the treatment of cholesterol, pulmonary arterial hypertension, hepatitis, lung cancer, breast cancer and spinal muscular atrophy, among other ailments.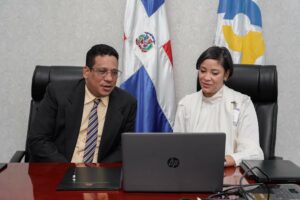 The agreement also seeks to promote the continuous improvement of the National Procurement and Contracting System (SNCCP), and to collaborate with the work that the DGCP has been developing in this area.
The agreement includes, but is not limited to, the training of personnel of the DGCP and any other agency that responds to the strategic needs of the institution and support in the development of technical areas in public procurement, according to the technical topics defined and specified by the DGCP, oriented to the vanguard that allows a better and more efficient service for the country, and in which Fedefarma can make the requested support effective.
"FEDEFARMA's interest is to support the Government in the improvement of the public health system through the timely access to innovative first line medicines for patients", Brenes expressed.
For his part, Mr. Pimentel acknowledged that, although there is still a need to create a specialized law for the acquisition of medicines, and the draft General Contracting Law is still pending in Congress, this agreement will contribute greatly to this purpose.
"This agreement is inserted in the framework of the reform of the system to identify good practices and to advance in the construction of policies for health sector acquisitions in which the criterion of value for money prevails," he said.
Source: Diariosalud.do
Learn More: HEALTH