The country will receive the "Comfort Hospital Ship", which will provide free health services in Azua.
These health services will be offered free of charge, mainly to the most vulnerable sectors, by the ship's U.S. medical personnel and the support of Dominican doctors.
The Ministry of Public Health and Social Assistance (MISPAS) and the U.S. Embassy in the Dominican Republic held a meeting here on Wednesday, with the objective of coordinating actions to receive next November 28 the Comfort Hospital Ship, which on this occasion will also offer services to the population of this province and other localities of the southern region as part of the Health Route.
The activity was headed by the Minister of Public Health, Dr. Daniel Rivera, who said that making these health services available in the south will have a great and positive impact on the entire region.
He indicated that after the COVID-19 pandemic, many services have been reduced and many people have stayed at home avoiding the recommended annual check-ups, which is why some diseases are now present, therefore, it is opportune to take advantage of the opportunity to check and take care of their health.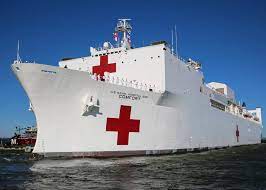 This is a historic event for Azua and the South since they will have a whole city of health at their disposal, offering numerous services to the entire population, thanks to the efforts and subsequent approval of the U.S. Government and the U.S. Embassy," said Dr. Rivera.
He said that it is necessary to capture the people who require attention, a task that will be coordinated from the different attention centers of the region and the Ministry of Health so that the people can take advantage and have a better quality of life.
Robert Thomas, Chargé d'Affaires of the U.S. Embassy, said that the objective is to guarantee that all Dominicans receive the benefits of this collaboration. He said that the Comfort's medical team will work alongside Dominican doctors and nurses to provide medical attention to children, youth, adults and the elderly.
He indicated that the Military Hospital Ship USNS Comfort (T-AH 20), will arrive in the country this November 28 until December 5 of this year and will offer services of general surgery, orthopedics, gynecology, complete laboratory, radiology, ophthalmology, dentistry, pharmacy, telemedicine, burn center, physiotherapy and urology.
In addition, they perform general medical evaluations, preventive medicine, dental examinations and dental treatments, optometry (eye exams), pediatrics, gynecology, dermatology, physical therapy.
In addition, there will be a Cardiometabolic unit, Glucometer, Cardiographs, blood donation and other equipment.
These health services will be offered free of charge, mainly to the most vulnerable sectors, by U.S. medical personnel from the ship and the support of Dominican doctors.
On his side, the U.S. Lieutenant Colonel explained that the US. Naval Hospital Ship Comfort will have the capacity to receive some 300 patients per day and the logistics for its arrival are being prepared.
Learn More: News