The technical commission of Panam Sports, which is in the country, described as positive the work carried out by local sports medicine specialists with athletes.
Ricardo Probert, sports director of Panam Sports, and Francisco Guzón, high performance sports advisor of the same entity, praised the work being done by the professionals of the medical sciences applied to sports in the Dominican Republic.
The considerations of the representatives of Panam Sports were made during a meeting with representatives of the Dominican Federation of Sports Medicine and the Unit of Medical Attention for High Performance Athletes, where they evaluated the degree of development of the country in the field of sports medicine.
At the meeting, held at the Dominican Olympic Committee, the international technicians questioned the Dominican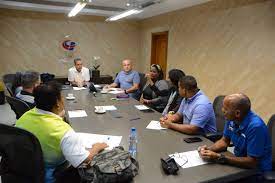 specialists about the equipment and medical resources they have to carry out their work.
"Despite certain limitations, we understand that the country has the necessary tools in the medical area to take care of its athletes and an example is the results that its representatives have had in the different competitions in which they have participated," said Probert.
The official of the governing body of continental sport pointed out that the work method must continue to be perfected.
"With the sporting level they have we understand that they are prepared to apply a high degree of sciences applied to sport. It is time for their athletes to have a more specialized preparation," urged the Mexican Probert.
Dr. Karina Gonzalez, in charge of the Medical Care Unit for Athletes, highly valued the meeting, which she said is a step forward for sports medicine in the country.
"This is the beginning of a work that will be beneficial for the medical area of sports. Just as our sport has had a great development, so we must go hand in hand with its advances," said González.
In addition to Gonzalez, doctors Lisette Sanchez, from the Dominican Federation of Sports Medicine, and Humberto Ortega, doctor of the Athletics Federation, participated in the meeting.
Also present were psychologists Elsa Guzmán and María Carvajal, along with physiotherapists Abel Caballero and Dalve de los Santos.
Source: Colimdo.org
Learn more: SPORTS