The report travels through Caribbean waters in search of its most iconic islands.
The Dominican Republic, including Saona Island, are on the list of the 50 Caribbean islands to forget everything, recommended by Conde Nast Traveler magazine in a report called "The Caribbean in 50 islands".
About Saona Island, the publication highlights that it was baptized by Christopher Columbus as Bella Savonesa, in honor of the man who noticed when they were passing by that it was an island independent from Hispaniola.
It says that Saona Island is a unique natural enclave in the Dominican coasts, highlighting that its beaches are one of the great tourist attractions of the country, which are home to two small settlements, Mano Juan and Catuano, and are part of the National Park of the East today called "Cotubanamá National Park".
The report also highlights the island of Hispaniola (shared by the Dominican Republic and Haiti), named after Columbus, which is the living history of the New World. It says that the first settlements of the discoverers of America were built in its territory, from Fort Navidad, in present-day Haiti, to Nueva Isabela, the first name of Santo Domingo.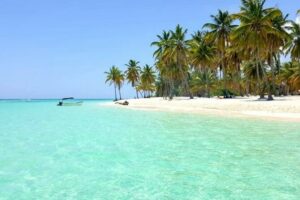 He points out that the beauty of the beaches, with Punta Cana at the forefront, is only the beginning.
He also invites you to go deep into the heart of the island and drop by Santo Domingo, where you can see one of the most beautiful colonial cities in the world.
The report highlights that all the most beautiful beaches in the world, the most cosmopolitan cities and the least stressful life can be summed up in one word: Caribbean.
It says there are many possibilities offered by this blue sea of shallow waters, sunken treasures, iconic nature and soaring colors, so the report travels the waters in search of its most iconic islands, 50 little pieces of land where you can forget the world and be happy.
Learn More: HIGHLIGHTS