The Dominican Civil Aviation Institute (IDAC) and the Directorate General of Immigration (DGM), formalized an institutional collaboration agreement, aimed at exchanging data to optimize the services offered by the two State entities.
The protocol was signed by Héctor Porcella, general director (i) of the IDAC and Venancio Alcántara Valdez, general director of the DGM, who coincided in highlighting the importance of the exchange to increase the operational efficiency of both institutions, in support of national security, the development of tourism and civil aviation.
Porcella defined the agreement as highly significant for the fulfillment of the functions of the two entities, and to contribute to the growth and dynamism of Dominican tourism.
He added that the alliance will have a positive impact on the growth of tourism through the timely exchange of information for passenger transit checks at the different air terminals.
Alcántara Valdez said that the agreement will also result in the control of illegal migration and eventual violations of the rules governing the country's aeronautical activity.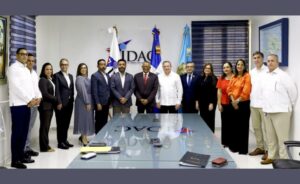 "This joint initiative of the IDAC and the Migration Directorate will directly benefit the citizens who use the air and migratory services and the efforts made by the Government of President Luis Abinader to defend the integrity of the national territory," he said.
The agreement, signed at the headquarters of the Dominican Civil Aviation Institute, will contribute to make transparent and expedite the processes required by citizens when requesting the services of their interest.
By signing the document, both entities are interested in articulating and joining efforts to implement programs and activities aimed at strengthening policies related to air traffic and migration in the Dominican Republic.
The IDAC was accompanied by Bernarda Franco, Legal Director; Clara Fernández, Director of the Higher Academy of Aeronautical Sciences (ASCA); Sarah Estévez, Director of Planning and Development; Luis José Chávez, Director of Communications; Ana Ysa Tejeda, Director of Human Resources; Bosco Guerrero, Director of Transparency and Citizen Services; and Jazmin Fabré, in charge of Inter-Institutional Relations, among others.
Alcántara Valdez was accompanied by Nathanael Minaya, director of Information Technology, and Nelson Gutiérrez, director of Public Relations.
Source: Proceso.com
Learn More: HIGHLIGHTS