Asonahores highlights the importance of the Top Resa Fair in France for Dominican tourism
The Association of Hotels and Tourism of the Dominican Republic highlighted the impact that participating in the Top Resa Tourism Fair, to be held in Paris, France from September 20 to 23, will have for the Dominican Republic.
Interviewed by Moisés González Peña of the digital newspaper Despertar Nacional, Rafael Blanco Tejera, president of the Dominican Republic's tourism industry dome for the representation of the different actors in the tourism sector before local and international bodies; said that organization will participate in Top Resa 2022,
"We are going to participate, undoubtedly, in that fair, it is one of the major fairs that are made in Europe and the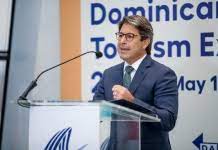 French market has always been a traditional market for the Dominican Republic"
Rafael Blanco Tejera said that the Dominican Republic will go to Top Resa with a recovered tourism and with the goal of continuing to strengthen.
"The French market has the importance of having as its main destination the north coast; which is one of the areas we want to strengthen, mainly Samaná, so we are very excited about our participation in Top Resa with the celebration of that fair."
About 20 companies from the Dominican Republic's tourism sector are confirmed to participate along with the Ministry of Tourism (MITUR).
The 43rd edition of the International French Travel Market (IFTM) Top Resa 2022 will be held September 20-22 at the Porte de Versailles exhibition center in the French capital.
Top Resa is one of the most important fairs in Europe, and France is the first market of the old continent and the third market for the Dominican Republic after the United States and Canada.
The meeting brings together the entire tourism sector as the only French event that presents multiple market segments during 4 days.
The fair expects the registration of more than 30,000 professionals (including journalists from all over the world), 200 destinations and 1700 brands.
In addition, the program includes numerous events, workshops, conferences that provide the opportunity to learn about the latest industry trends and share experiences.
The Association of Hotels and Tourism of the Dominican Republic (Asonahores) announced the celebration of its XXXIV Trade Show to be held at Blue Mall Punta Cana, from October 19 to 21 of this year.
This year 2022 will feature the exhibition of more than 300 suppliers and a wide variety of products that will be available to all who attend the event.
The exhibition is held annually and is considered the main platform for all suppliers of goods and services related to the tourism industry at the national and international level.
The president of Asonahores, Rafael Blanco Tejera, affirmed that the activity has been successfully held for more than 30 years, being the event with the greatest impact and relevance for suppliers of the tourism industry.
Learn more: HIGHLIGHTS