The former president of the PuntaCana Group, tourism entrepreneur Frank Rainieri Marranzini, praised the tourist qualities of this city and urged businessmen in the area to prepare to receive tourists from the capital. He added that this city has everything, from mountains to rivers and beaches.
Rainieri made his recommendations while giving the master conference "Let's talk about Tourism in San Cristóbal", organized by the Chamber of Commerce and Production of the southern city, in the auditorium of the Loyola Polytechnic Institute.
He explained that it is necessary to plan with a correct order, the exploitation of the potential of its historical zones,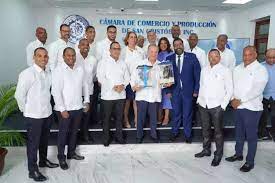 mountains, rivers, the incorporation of services such as water, electric energy and security, elements that will allow the take-off of the tourist development.
The pioneer of the Dominican tourism industry, advised that vision, perseverance and work without vacations have been the essential elements for the success of the best known project of the Dominican Republic in the world Punta Cana, together with the love and passion that the whole family has deposited since its creation 53 years ago.
Rainieri told amidst anecdotes and laughter the vicissitudes he had to go through to achieve the development of the region as a tourist option for the world.
Frank Rafael Rainieri Marranzini is the former president of the PuntaCana group and of the foundation of the same name, the latter dedicated to the development and execution of programs of corporate social and environmental responsibility.
While welcoming the event, Ramón Montas, president of the board of directors of the local chamber of commerce, explained that the event is part of the second objective of the institution, the internationalization of the province and the support of business initiatives that enhance our development.
He listed a series of events that give primacy to the southern province, and place it on the road to achieve a harmonious development that benefits all its population, among them the signing of the Constitution, the rebellion of the slaves, the set of pictographs of the well-known Cuevas del Pomier, the series of historical monuments, rivers, mountains, 62 percent of the revenues of the southern region and 15 percent of the gross domestic product.
Present at the activity were Pura Casilla, governor; Jose Montas, municipal mayor; Franklin Rodríguez, senator of the province; deputies Eddy Montas and Gustavo Lara, as well as the administrator of the Empresa de Generación Hidroeléctrica Dominicana (EGEHID), Rafael Salazar.
Also, Father José Victoriano, rector of the Loyola Polytechnic Institute; Vladimir Ruiz, president of the Business Council of San Cristóbal; the mayor of Yaguate, Rosa Peña, among other businessmen, traders of the San Cristóbal society.
Also representatives of the civil society and social and community groups.
The event received the economic support of important commercial houses of the city of San Cristobal.
Source: Elnacional.com.do
Learn more: HIGHLIGHTS