AERODOM & VINCI Airports announced the construction of a new 150-room Holiday Inn hotel integrated to the facilities of the José Francisco Peña Gómez International Airport of the Americas (AILA-JFPG), which will be developed by TVP Management.
With an investment of more than US$22 million, TVP Management RD and Constructora Sofisa, S.A., will build the new Holiday Inn Santo Domingo Airport hotel, under the design of Taller de Arquitectra ORBITARQ, and the law firm Estrella & Tupete. The Holiday Inn Santo Domingo Airport will offer 150 rooms on 5 levels with 9,000 square meters of construction.
The Holiday Inn Santo Domingo Airport will be located on the grounds of the AILA-JFPG, being the first hotel integrated to an airport in the country, and will offer hospitality services of the highest quality. It will be within walking distance of the airport terminal. The hotel will feature a bar and restaurants, terraces, coworking space, fitness center, swimming pool, business center, flexible meeting rooms and parking.
"We are delighted to announce the construction of this important hotel with TVP Management and Constructora Sofisa, which brings us closer to our goal of serving as a true hub for the Americas capable of welcoming transit passengers and crews, encouraging more local and international airlines to establish their hubs in the country," said Mónika Infante Henríquez, CEO of AERODOM.
The rooms of the new hotel will have two views: towards the air terminal and towards the beautiful Caribbean Sea, so the facade will have large windows that will allow guests to enjoy the surroundings. Its clientele will be composed mainly of passengers who take very early flights, who missed a connection, as well as airline personnel. The hotel will also attract business travelers by providing space for business meetings and training programs, among others.
"We are very excited about this new hotel project that definitely adds tremendous value to the Santo Domingo Airport, the city of Santo Domingo and our portfolio of projects. Major cities around the world have one or more airport hotels, contributing to air traffic dynamism. We thank the executives of AERODOM for the trust and the time we have dedicated to reach this point of announcing this important hotel investment," said Carlos Tejera, president of TVP Management.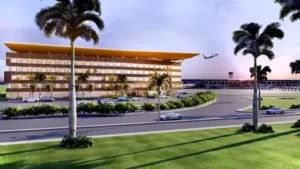 Cristiano Gonçalves VP Regional Development for Latin America of IHG Hotels & Resorts, commented "We are excited to expand our offerings in Santo Domingo with the legacy of one of our most recognized and beloved brands, synonymous worldwide with consistent, quality accommodations. This new Holiday Inn property will contribute to more tourists visiting this beautiful land that has proven to be one of the fastest growing tourist destinations in the region".
For his part, Minister of Tourism David welcomed the construction of this new Holiday Inn Santo Domingo Airport and expressed that these new investments are evidence of the confidence that tourism continues to generate in the Dominican Republic, which is already an international benchmark.
About AERODOM
Aerodom is a Dominican company that holds the concession to operate six state-owned airports in the country, which expires in 2030. It is responsible for the International Airports of the Americas, José Francisco Peña Gómez, in Santo Domingo; President Dr. Joaquín Balaguer, in Santo Domingo Norte; Gregorio Luperón, in Puerto Plata; María Montez, in Barahona and President Juan Bosch in the province of Samaná; as well as the Arroyo Barril Aerodrome, also located in Samaná. Since 2016, the company is part of the French international airport group VINCI Airports. www.aerodom.com
About TVP Management RD
TVP MANAGEMENT is a structuring company, developer and manager of real estate projects, which at the same time offers extended financial advisory services. The company arises as a need to have real estate project structuring and management firms with a multidisciplinary team. TVP MANAGEMENT is part of an Economic Group with construction companies with more than 20 years developing successful real estate projects, highlighting the Homewood Suites by Hilton Santo Domingo Hotel, the Hilton Garden Inn La Romana, the Corporate office buildings 2010, NC, 2015, 2019 and 2020, among others. https://tvpmanagement.com/
About IHG Hotels & Resorts
IHG Hotels & Resorts [LON: IHG, NYSE: IHG] is a global hospitality company with a mission to deliver Genuine Hospitality, Always. With a family of 17 brands plus IHG One Rewards, one of the world's largest loyalty programs, IHG has more than 6,000 hotels in more than 100 countries and 1,800 more to open in the coming years.
Learn More: DESTINATIONS