The Be Live hotel chain announced the temporary closure of its three hotels in the eastern region of the Dominican Republic, totaling 1962 rooms, due to the insufficient occupancy projected for the low season, which will be used for a total renovation of the physical facilities and to restart operations next August with a new hotel brand.
The Be Live Collection Punta Cana, a five-star all-inclusive hotel for the whole family, has 688 rooms (deluxe, superior, swin, junior, suites, family, family suites and family home), 8 restaurants, 6 bars and a disco bar. It also has meeting and convention rooms, five swimming pools for adults and two for children, water sports, Luxury Club, Casino, kids club and other amenities.
Next to it, in Cabeza de Toro, is the adults-only Be Live Collection Punta Cana, with 406 rooms (deluxe superior, junior suites, master suites and master junior suites). It offers VIP Lounge, snack bar, and Mexican, Rodizio, Mediterranean, Asian, grill and seafood restaurants. It also has 4 bars that include premium drinks and room service, plus water sports and access to all the facilities of the Be Live Collection Punta Cana.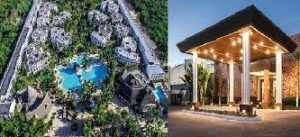 The Be Live Collection Canoa, a five-star establishment with 871 rooms (deluxe, superior, family, junior suites and honeymoon villas), will also be renovated and operated under a new brand. It has an adults-only club, 9 restaurants, 11 bars, giant Jacuzzis, water sports, kids club, casino and access to a golf course. There is also a spa and meeting and convention rooms.
The three hotels have more than 4,000 employees, who have benefited from severance, vacation or transfer advances in order to remain on staff and return to their jobs after retraining for the new brand.
"All hotel personnel have the opportunity to accept the suspension agreement with the support of the company during the three-month work stoppage, and keep their jobs, as well as receive retraining for the new brand and return to their positions once the work is completed," said a Be Live spokesperson.
Source: Diariosocialrd.com
Learn more: HOTELS