The hotel establishment underwent an extensive renovation of all public areas and new rooms.
The Courtyard by Marriott Santo Domingo reopened its doors after an attractive renovation of the new property, which included all public areas and new rooms.
With an investment of approximately US$5 million by developer SH Group, the remodeling included rooms and corridors, outdoor areas, façade, pool area, restaurants, gym, indoor terrace and event rooms.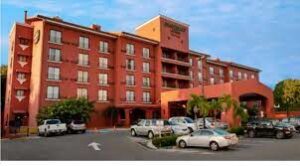 Through its design, the hotel hopes to attract business travelers who are looking for a space that allows them to meet their professional challenges while enjoying experiences outside their workday.
The reopening coincides with the first year of operations of the hotel located on Máximo Gómez Avenue.
The event was also led by Natanyi Cabrera, General Manager Courtyard by Marriott Santo Domingo, Rafael Agramonte, Operations Manager, Gabriela Salazar, Assistant General Manager, Greysi Román, Cluster Sales Director, Estela Nuñez, Cluster EBC Sales Director, Chanttal Ferreira, Assistant Sales Director.
"More than 19 years ago we opened our doors and pioneered the development of select service hotel brands in the market. Historically we are the second brand of the Marriott chain with national presence, operating at all levels with 100% local human capital. Today we celebrate a year of renovating our spaces to expand the offer and amenities according to the standards we pursue and the demands of our guests", Cabrera highlighted.
Source: Mitur.gob.do
Learn more: HOTELS