Hard Rock Hotels presents its new gastronomic and service alternatives in Punta Cana.
World-class services, elegant rooms, premium beverages and luxury amenities.
Dominican Republic. RCD Hotels, a group of luxury hotels in different tourist destinations such as the United States, Mexico and the Dominican Republic, continues to present its new gastronomic and service alternatives at the Hard Rock Hotel & Casino Punta Cana property. In an interview, the corporate director for Latin America, Leonel Reyes, spoke about how they have been growing and what are these alternatives and new services of the brand.
Since its opening, Hard Rock Hotel & Casino Punta Cana has been at the forefront, due to the very nature of the brand and the constant innovations. What does the hotel bring to this new era?
Innovation has always been our main ingredient. We believe in change and that is why we have decided to completely reinvent our room and restaurant offerings inspired by contemporary architectural and technological designs. An example of this is the new immersive restaurant Awaken Your Senses that offers a fully technological dining experience. In addition to this we have also considered upgrading our family offer with the integration of a new water park for the enjoyment of children, teenagers and adults.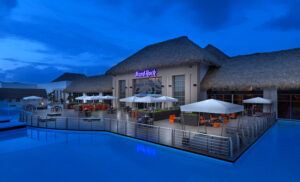 The overall idea is to be able to offer our guests a much fresher, modern hotel full of memorable experiences.
What is the Awaken experience, in the new immersive restaurant, and do you need to book in advance?
Awaken Your Senses is our newest dining offering with a maximum capacity of 12 people. It is a multi-sensory dining experience that incorporates high-resolution video projection, interactive touch table, aroma synchronization, augmented reality and a surround sound system. All paired with a selection of 7 exclusive dishes that take the culinary experience to the next level.
The dinner lasts 90 minutes during which the customer takes a journey through different destinations around the world exploring their gastronomy and musical culture. It will be open Tuesday through Sunday from 6:30 pm and 8:30 pm with prior reservation.
For the lover of good food, what's new at Toro Steak House, The Market and CIAO?
The Market Food Hall is a very innovative concept that offers a culinary journey through the most attractive street food cuisines in the world. It consists of a variety of Mexican, American, Asian, Italian and charcuterie options. All made with local, seasonal ingredients in combination with a selection of craft cocktails. Dining at this restaurant is an experience because of its architectural design, inspired by the lush vegetation of Punta Cana, representing a contemporary chic conservatory with a tropical hanging garden, details elaborated by Dominican artists and a modern touch in the furniture and surroundings.
Ciao on the other hand offers exceptional international cuisine for dinner where guests can experience the flavors that characterize Italian cuisine. The menu offers antipasto, fresh handmade pastas and sweet snacks.
Toro is our most requested restaurant for its wide variety of premium cuts grilled to perfection. It has a wine cellar offering wines from different regions of the world and a central bar where guests can experience a premium cocktail menu. The decoration combines colors, textures and shapes to create an elegant and sophisticated ambiance.
Tell us about the rooms, how does this renovation impact the memorable guest experience? What are the renovations?
We can say that Hard Rock Hotel & Casino Punta Cana offers the best entertainment in the Punta Cana area but at the same time the best amenities for the relaxation of our guests. Our room offerings range from options for the perfect romantic getaway with luxury amenities, including a double whirlpool tub on the balcony, or for the family vacation where kids and adults have plenty of space, 24-hour room service, and children's amenities.
The new design has a fresh, modern look combined with the culture of our location thanks to the artwork we have placed from local artists.
A water park in an upscale hotel is always a plus for the guest or client. What attractions are included in this new aquatic scenario for adults and children?
Rockaway Bay Water Park is here to guarantee our guests an epic family vacation. This new attraction for adults and children is part of our all-inclusive plan and features 26 world-class water slides surrounded by lush tropical gardens. The perfect paradise where kids and adults alike can have fun, enjoy wild thrills and incredible experiences.
In addition to the slides, it also offers a series of water games perfect for an unforgettable vacation. As part of the attractions of the place we have the gastronomic offer offering two Food Trucks with a variety of food for all tastes. The park is available for everyone's enjoyment from 10:00 am to 6:00 pm.
Learn More: Hotels