Nestled in an exclusive spot in the promising tourist destination of Pedernales is Maxims House, the new hospitality option for all those who want to enjoy exclusive environments when vacationing.
In this lodging, visitors can disconnect from routine while being enveloped by the relaxing bubbles of the swimming pool surrounded by ornamental elements that evoke traditional Dominican patios.
The hotel is just a few minutes away from the Pedernales boardwalk, which has a white sand beach and calm waters for the enjoyment of bathers, as well as the main restaurants and entertainment venues of the town.
The facilities have 12 rooms, bar, barbecue area, parking, common areas and 24-hour attention, available for reservation at 809-371-5698 and social networks @maximshouse.
Tourist attractions in Pedernales
The province of Pedernales is located in the southwest of the Dominican Republic, on the border with Haiti. They have great attractions such as:
Bahía de Las Águilas, with eight kilometers of beach with crystalline turquoise waters, is part of the Jaragua National Park.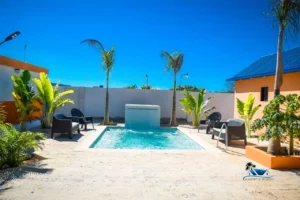 The Oviedo Lagoon is the largest in the country, with a salt water level three times higher than that of the sea. Around the dense mangroves and the 24 keys of the lagoon, you will find grey, blue and white herons, roseate spoonbills, western sandpipers and flamingos.
Jaragua National Park is one of the most important natural reserves in the country. It is part of the first UNESCO Biosphere Reserve in the Dominican Republic and includes diverse ecosystems, from sea to land, lagoons and islands, and a rich and diverse wildlife.
El Hoyo de Pelempito is located at 1,300 meters above sea level, with several mountain trails near the observatory that sits atop this 700-meter-high geological depression nestled among the Sierra de Bahoruco mountains.
The Romeo wells, make up a system of 3 wells of brackish and crystalline water interned between the rocks located on the Barahona-Pedernales road.
Source: Acento.com
Learn More: DESTINATIONS