The new property brings the concept of "resortainment" to the Caribbean, combining luxury resort amenities with extraordinary entertainment.
Meliá Hotels International ("Meliá") (BME: MEL), one of the world's leading leisure hotel companies operating more than 380 hotels in 40 countries, and its partner Falcon's Beyond ("Falcon's Beyond" or the "Company"), a global entertainment development company, today announced the opening of Falcon's Resort by Meliá | All Suites Punta Cana. This is the first resort to open under the new leisure and entertainment-based brand, Falcon's Resorts by Meliá, which offers a unique "resortainment" hotel experience.
The new brand seamlessly blends luxury resort amenities with extraordinary entertainment experiences, including access to a new world-class theme park, Katmandu Park | Punta Cana, just steps from the property. From now until March 15, 2023, resort guests will receive exclusive access to a selection of attractions as a preview before the full park opens its doors to the public. In the future, guests will also have direct access to a carefully curated selection of fun-filled and varied dining, shopping and entertainment venues as part of a broader destination experience being developed.
Falcon's Resort by Meliá | All Suites Punta Cana, a five-star all-inclusive resort located on the Dominican Republic's iconic Bávaro Beach, is a multi-phase transformation of two existing Meliá properties, Paradisus Grand Cana and Garden Suites by Meliá, comprising 622 rooms. The first phase has been rebranded as Paradisus Grand Cana and includes 432 luxury suites, three pools, nine specialty restaurants and a world-class spa and fitness center. The second phase, the rebranding of Garden Suites by Meliá, will include 190 rooms, to be completed by the end of 2023. Integrating the beauty of the Caribbean landscape, the common areas are filled with natural light and have been designed to inspire sophisticated, lively entertainment that complements the establishment's distinct personality.
"It is a true honor to welcome guests to the first Falcon's Resort by Meliá property in beautiful Punta Cana," said André Gerondeau, COO of Meliá Hotels International. "Meliá has a strong bond with the Dominican Republic, where we opened our first property in Punta Cana more than 30 years ago. The development of Falcon's Resort by Meliá will add a new level of casual, sophisticated and surprise-filled fun to the traditional vacation experience."
Beyond Suites
Designed for all types of travelers, the property's suites range from 74 to 277 square meters, with spacious living areas, private furnished balconies and terraces with spectacular views of the garden or main pool. The spacious suites feature a dining area and wet bar for enjoying a morning cocktail or coffee and a living room equipped with a smart TV and comfortable seating. Resort guests who book a standard suite will receive a 1-use pass to Kathmandu Park, per guest.
Guests can also enjoy the Beyond Suite experience, which offers them a superior room and exclusive perks to enhance their stay. These include a personal Beyond Concierge, priority booking of activities and restaurants, personalized turndown service, one dinner by the Beyond Pool (one per stay) and a multi-day ticket to Kathmandu Park. With this upgrade, guests can also select a variety of accommodation categories, including swim-up suites with a relaxing whirlpool tub on their private terrace.
International Cuisine and an Elegant Spa
Falcon's Resort by Meliá | All Suites Punta Cana will offer a wide range of international cuisine through nine dining concepts. Diners can enjoy Asian, Latin, Mediterranean and Caribbean culinary experiences made with local ingredients. In addition, the resort's bars offer premium spirits and wines.
Discerning travelers can indulge themselves with services and treatments at the MAIA Signature Spa by Natura Bissé. A trend-setter in the combination of innovative avant-garde techniques and traditional therapies, MAIA Signature Spa provides peace, serenity and total relaxation.
The first theme park in the Caribbean: Resortainment is born.
Falcon's Resort by Meliá | All Suites Punta Cana is part of a new $350 million entertainment destination called Falcon's Beyond Destinations that will feature three distinct guest experiences: the resort, a new theme park and a shopping, dining and entertainment center called Falcon's Central. Through the resort's "resortainment" offering, guests can complement their Caribbean beach vacation with a theme park experience at the new Katmandu Park | Punta Cana.
The state-of-the-art Katmandu Park | Punta Cana will transport visitors through immersive storytelling experiences, which will include four attraction tents featuring several never-before-seen proprietary technologies. Other attractions include 36 holes of miniature golf, an outdoor ropes course and a Katmandu-themed carousel, among others.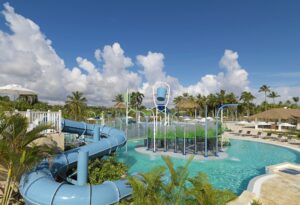 "We are thrilled to bring unique "resortainment" experiences to the Caribbean with the opening of Falcon's Resort by Meliá | All Suites Punta Cana and Katmandu Park | Punta Cana," said Cecil D. Magpuri, CEO of Falcon's Beyond. "Our distinctive compact, experiential theme park concept offers our guests access to innovative attraction technologies, immersive experiences and other daytime and nighttime entertainment. This combination results in an extraordinary beach getaway with endless thrills and adventures for families, groups, couples and travelers of all
ages."
The innovative BeyondME™ technology
In early 2023, resort guests will also be able to access BeyondME™, a new online fan loyalty and gaming platform that will allow people of all ages to connect, personalize and receive rewards for their participation in digital and real experiences. The BeyondME smart wearable technology provides access to rooms, Katmandu Park | Punta Cana attractions, park passes and individual profiles, and allows guests to conduct cashless transactions and interact with various attractions and immersive touchpoints across all properties.
BeyondME encourages players to earn experience points, called XP, by participating in a variety of real-world experiences at the resort, the park, Falcon's Central and virtual experiences on the BeyondME web application, and by playing BeyondME-compatible online games. The
XP points can be redeemed for various discounts and upgrades. MeliáRewards members will soon be able to link their account to unlock higher BeyondME status levels and convert MeliaRewards points to XP. Guests staying in a Beyond Suite will receive additional XP points and higher level status during their stay.
"This new type of "resortainment" experience will change the way we think of traditional beach vacations," says Scott Demerau, CEO of Falcon's Beyond. "Falcon's Resort by Meliá | All Suites Punta Cana and Katmandu Park | Punta Cana redefine the resort experience in the Dominican Republic. We are thrilled to partner with Meliá Hotels International to bring this leisure destination to life."
Falcon's Resort by Meliá | All Suites Punta Cana also features two offerings for children: Habitat Club and BLAST! Waterpark. Habitat Club is a modern, spacious kids' club that encourages children of multiple ages to explore their many curiosities through creative activity programs. And BLAST! Waterpark, a water park, gives children the chance to enjoy multiple rides and slides to cool off from the Caribbean heat.
Meliá and Falcon's will develop multiple Falcon's Beyond Destination properties around the world in the coming years, including destinations such as Tenerife (Canary Islands) and Mexico.
Opening rates for Falcon's Resort by Meliá | All Suites Punta Cana start at $420 per night for standard rooms and $700 per night for Beyond Suites, all-inclusive at double occupancy.
On July 12, 2022, Falcon's Beyond announced plans to become a Nasdaq-listed company through a definitive merger agreement with FAST Acquisition Corp. II (NYSE: FZT), a special purpose acquisition firm founded by Doug Jacob and led by Sandy Beall. Following the closing of the transaction, the new combined company will be named "Falcon's Beyond Global, Inc." and is expected to trade on the Nasdaq under the symbol "FBYD." Falcon's website provides more information on this transaction in its Investor Relations section.
About Meliá Hotels International
Founded in 1956 in Mallorca (Spain), Meliá Hotels International operates more than 380 hotels (portfolio and project) in more than 40 countries, under the brands Gran Meliá Hotels & Resorts, Paradisus by Meliá, ME by Meliá, Meliá Hotels & Resorts, ZEL, The Meliá Collection, INNSiDE by Meliá, Sol by Meliá and Falcon's Resorts by Meliá, in addition to an extensive portfolio of affiliated hotels under the "Affiliated by Meliá" network. The Group is one of the world's leading vacation hotel companies, experience that is helping it to consolidate the growing leisure-inspired urban market segment. Its commitment to responsible tourism has led the Group to become the most sustainable hotel company in Spain and Europe, according to the latest S&P Global Corporate Sustainability Assessment (Silver Class). It has also ranked seventh on the Wall Street Journal's list of the 100 most sustainably managed companies in the world (and the leading travel company) and is the only Spanish travel company included in the Financial Times' list of "Europe's Climate Leaders 2021". Meliá Hotels International is also listed on the Spanish IBEX 35 stock market. For more information, please visit www.meliahotelsinternational.com
About Falcon's Beyond
Headquartered in Orlando, Florida, Falcon's Beyond is a fully integrated, premier experiential entertainment development company focused on the 360° IP Expander model. The company brings its own and its partners' intellectual property to markets around the world through theme parks, resorts, attractions, proprietary technologies, feature films, series, consumer products, licensing and more. The company has won numerous design awards and provided design services in 27 countries around the world, bringing imaginary worlds to life.
Source: Puntacana-bavaro.com
Learn More: HOTELS