Paradisus by Meliá, the all-inclusive luxury hotel brand of Meliá Hotels International, has introduced a series of new experiences designed to connect guests with local culture called Destination Inclusive®. This new program encompasses the entire resort – from design and amenities to dining, leisure and activity opportunities for guests both on and off property.
Guests will be more connected than ever to the local culture of the destination in which the hotel is located, transforming the way travelers experience all-inclusive hotels. As part of this program, beginning April 1, 2023, guests will have access to Destination Inclusive® experiences: unique activities outside of Paradisus' facilities.
Destination-Inclusive® experiences will only be available to guests in the new Nikté and The Reserve suite categories. Included in the daily rate of these categories, each Destination Inclusive® experience is carefully selected by local experts to connect guests with the nature and beauty that surrounds each hotel.
At Paradisus' Riviera Maya properties, which include Paradisus Cancun, Paradisus La Perla and Paradisus Playa del Carmen, guests will visit a local cenote guided by a Mexican shaman to enjoy a private meditation and yoga class designed to cleanse energies and connect guests with the natural environment. At Paradisus Los Cabos, guests will explore the unique beauty of an ancient canyon located near the hotel. During the visit, they will participate in a spiritual yoga and sound healing practice led by a local instructor. Finally, at Paradisus Palma Real in Punta Cana, guests will board a private catamaran that will transport them to a quiet, secluded beach where they will participate in a seaside class to connect with nature and the magic of the destination. These unique experiences will change throughout the year with the assessment of local curators.
Nikté, recently launched at all resorts, offers an enhanced experience for guests who want a special touch during their stay. Designed to cater to guests seeking luxury and comfort, Nikté at Paradisus by Meliá provides a superior suite experience through a series of exclusive services and benefits including premium room categories, turndown service, premium mini-bar, a personal destination concierge, priority dining reservations and an included dinner at the premium Sal Steak Cave restaurant when applicable, as well as a hydrothermal circuit at the resort's YHI Spa. Travelers seeking a more intimate stay and staying at any Paradisus by Meliá resort can experience The Reserve: an adults-only oasis. The Reserve at Paradisus by Meliá offers guests access to the resort's adults-only spaces, including private beach areas, pools, lounges and adults-only activities.
"At Paradisus by Meliá, the destination plays a key role in creating a unique travel experience," said Susanna Mander, Global Brand Marketing Director for Paradisus by Meliá. "We are thrilled to take our guests to discover the infinite pleasures of a vacation like they have never experienced before. These new offers give them the opportunity to find secret corners, enjoy authentic cuisine, meet local artists and explore destinations, providing them with a deeper understanding of their culture."
Paradisus by Meliá lands in Europe
Paradisus has also arrived in Europe. On March 24, Paradisus Gran Canaria opened its doors as the first Paradisus by Meliá branded hotel in Europe. Located in Gran Canaria, the third largest island in the Canary Islands, this destination has become one of the most popular in Spain. Paradisus will open its second European property, Paradisus Salinas, on May 22.
With architecture, design and interior design by architect Álvaro Sans' ASAH studio, Paradisus Gran Canaria has 297 rooms and suites of different categories, including Nikté and The Reserve. All rooms enjoy a serene and relaxing ambience that complements the surrounding natural environment with a design in harmony with the beauty of its surroundings.
The design of the rooms at Paradisus Gran Canaria is based on neutral and relaxing colors accompanied by contemporary furnishings and local artwork. In line with Paradisus by Meliá and Meliá Hotels International's commitment to sustainability, both linens and amenities are 100% sustainable, recyclable and made from environmentally friendly materials. All minibar products are made by local artisans to reduce their impact on the environment.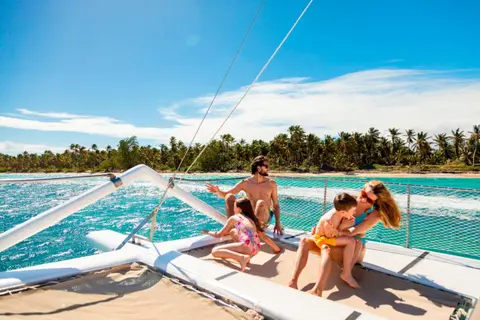 Paradisus by Meliá presents Holistic Weeks 2023
Also new in 2023, Paradisus by Meliá resorts have launched a variety of cutting-edge wellness experiences throughout the year, in collaboration with SUDA, an international company specializing in the design of innovative and exclusive wellness experiences. These experiences, called Holistic Weeks Paradisus, are designed to offer guests a personal journey through immersive yoga, primal movement and sensory meditation, among others, with experts leading each session. This programming is included in the daily rate for all Paradisus guests. Each Holistic Week will be unique to each Paradisus resort and will be offered several times throughout the year.
For guests seeking a more meaningful and profound wellness experience, Paradisus Los Cabos will host its first "Embrace Your Nature" wellness and art retreat in collaboration with SUDA from July 13-18, 2023. The 5-day retreat is a fully immersive holistic experience designed to help relax, eliminate toxins and reconnect the mind, body and soul with nature through a schedule of immersive sessions led by international wellness trainers that combine yoga, meditation, movement, breathing and stretching with artistic experiences. Participants will also be able to participate in special art sessions after meditation to capture their emotions through painting. Reservations can be made through Eventbrite.
About Meliá Hotels International
Founded in 1956 in Mallorca, Spain, Meliá Hotels International has a portfolio of more than 400 hotels (portfolio and planned) in more than 40 countries and 10 brands: Gran Meliá Hotels & Resorts, ME by Meliá, The Meliá Collection, Paradisus by Meliá, Meliá Hotels & Resorts, ZEL, INNSiDE by Meliá, Falcon's Resorts by Meliá, Sol by Meliá and Affiliated by Meliá. The Group is one of the world's leading vacation hotel companies, experience that is helping it to consolidate the growing leisure-inspired urban market segment. Its commitment to responsible tourism has led the Group to become the world's most sustainable hotel company, according to the latest S&P Global Corporate Sustainability Assessment, and it is also a "Top Employer 2023" brand in Spain, Mexico, Dominican Republic, Italy and Germany. Meliá Hotels International is also listed on the Spanish IBEX 35 stock market. For more information, visit www.meliahotelsinternational.com
About Paradisus by Meliá
Paradisus by Meliá Destination inclusive® Luxury Resorts is a brand operated by Meliá Hotels International, one of the world's leading family-owned international hotel companies. Paradisus hotels are located in both emerging and some of the world's most exclusive destinations, offering a superior guest experience. The luxury hotel brand currently offers hotels in the Dominican Republic: Paradisus Palma Real Golf & Spa Resort; in Mexico: Paradisus Cancun, Paradisus Playa del Carmen, Paradisus La Perla (adults only) and Paradisus Los Cabos (BCS, Mexico); and in Spain: Paradisus Gran Canaria and soon Paradisus Salinas Lanzarote. Each of the establishments is set in beautiful gardens overlooking the beach and reflect the natural beauty of their locations.
Focused on health, wellness and the natural environment, each resort offers a range of personalized enriching experiences, including yoga, YHI Spa treatments, water sports and cooking classes. Paradisus by Meliá offers a selection of exceptional room types and even more luxurious options such as The Reserve (adults only) and Nikté (for families), which offer premium accommodations, the brand's highest standards of service, exclusive amenities and VIP services ideal for a wide range of guests: couples, families, weddings and business travel. One of the new experiences included in the stay for VIP guests are the Destination Inclusive®, activities that take place outside the hotel and invite our guests to delve into the local culture and experience it firsthand at each Paradisus destination. Find out more on Paradisus by Meliá's social media profiles on Instagram @paradisusbymelia_esp and @paradisusbymelia_eng; and on Facebook, Paradisus by Meliá ESP. www.melia.com/paradisus.
Source: Elpregonerord.com
Learn More: HOTELS