On January 19, George Alexander Nader presented his "Maralda" project to be developed in Miches, during the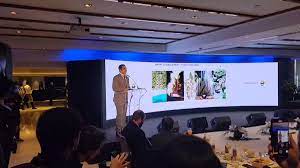 breakfast organized by the Ministry of Tourism and the World Tourism Organization called "Promiches Project – Investment Opportunities" at FITUR 2023.
Nader told those present that "Maralda is the project that, thanks to its conceptualization, location, permits and licenses, infrastructure and its financial and legal structuring, promises investors to put their capital to work, generate a positive impact on the region, and respond to the market with a great product at the highest speed and with the greatest security".
"Maralda" is a development that runs from the Punta Cana – Miches highway to the beach, and although the project will be developed in different phases, during the breakfast Nader presented what he called "catalytic projects for the sustainable development of Maralda", these are: two beach hotels, a beach promenade that will be positioned as the mixed-use residential, commercial, entertainment and cultural district of the Miches hotel zone, a mountain hotel, lots for villas, a smart city of affordable housing, and an innovative residential project, winner of 17 international architecture awards called NOOM, associated with the company Grupo NX6 of Mexico.
Nader concluded his presentation by stating that "all the conditions are in place for investors to build a model destination; we have the market, the projects, the financing, the support of the state, the infrastructure, the local institutional investors and the world's most renowned hotel chains interested in the region, which is why I affirm that Miches' time has come".
About Nader Enterprises
Nader Enterprises is an investment, development and asset management firm based in the Dominican Republic with a primary focus on real estate and tourism. Its portfolio of assets includes companies, projects and investments in the residential, commercial, hotel, agricultural and tourism megaprojects in Uvero Alto and Miches.
Source: Puntacana-bavaro.com
Learn more: HOTELS