Hyatt CEO Mark Hoplamazian described the first quarter of 2023 as exceptional with its new Apple Leisure Group (ALG) portfolio, which increased RevPAR (revenue per available room).
Hyatt's ebitda for the period was up 58% year-over-year, from $169 million in the first quarter of last year to $268 million this year, of which $79 million was contributed by ALG, up 40% year-over-year from $56 million in the same period of 2022.
Hoplamazian highlighted during the presentation of first-quarter results that ALG achieved a net RevPAR increase of 30% in the Americas and 36% in Europe. He also noted that it benefited from the 'World of Hyatt' loyalty program, as in the Americas it already accounted for 21 percent of ALG's guests, representing one-fifth of the total.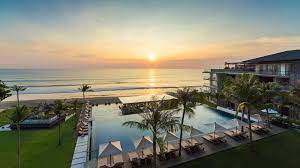 Hoplamazian also noted that the average daily rate (ADR) at ALG resorts increased 11 percent year-on-year to $335, while occupancy rose 10 points to 77.7 percent, bringing RevPar up 29 percent to $261.
These ALG figures in terms of ADR, occupancy and RevPar far exceed those of the rest of Hyatt's divisions, which subdivides its results on the one hand into franchisees and management in three areas such as the Americas, EMEA and APAC, and on the other hand into owned and rented hotels, without in any case averaging more than $300 in average rate, 70% occupancy and $200 in RevPar.
As REPORTUR.us reported, Hyatt is focusing on luxury for its all-inclusive segment. And, as such, it has launched new brands with the intention of giving an even more exclusive emphasis to the luxury segment (Hyatt: its new all-inclusive brand debuts in 2024 in Cancun).
The most recent is the Hyatt Vivid Hotels & Resorts brand, designed for a specific high-end traveler under the all-inclusive concept.
Source: Reportur.com
Learn more: HOTELS