The Ministry of the Environment and Natural Resources carried out a cleanup day in various areas of the country, where 160 coasts and tributaries were intervened, having as a central point the Manresa Rompeolas beach in Santo Domingo, headed by Minister Miguel Ceara Hatton.
Through the Vice-Ministry of Coastal and Marine Resources, these days were carried out, which are worked on an ongoing basis, with the objective of keeping the ecosystems free of solid waste and providing technical assistance to all institutions that wish to carry out beach clean-up days, as part of their social responsibility.
"Today is an appropriate day to remind us of the importance of our coasts and rivers. We know that it is a challenge to work the Caribbean Sea and I believe that we have to do everything necessary to take care of our beaches. The clean-up days are a way of preserving this important resource, especially for those of us who live from tourism and the natural resources that the sea provides us with", explained the minister.
Ministry employees were among those who participated in this day that seeks to turn sustainability into a culture, as Ceara Hatton has emphasized on several occasions.
The Ministry of Housing and Buildings, Sacred Forest Foundations, Acción Caribe, 3Rs Sustainability Foundation, Migration Directorate, UNPHU, DGII, MERCASID, Coop. de la PN, Parley, Banreservas and Puesto de Bolsa JMMB also took part in this event.
Another of the objectives of these days is to call on all sectors involved in the issue of waste, to walk together towards a proper management of solid waste, from the source of origin to the final disposal, thus preventing them from reaching the water bodies and from these to the sea.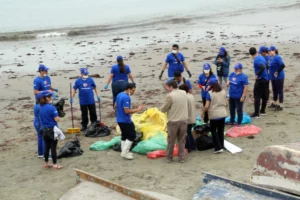 La Altagracia, La Romana, El Seibo, San Pedro de Macorís, Hato Mayor, San Cristóbal, Peravia, Azua, San Juan de la Maguana, Barahona, Pedernales, Montecristi, Puerto Plata, María Trinidad Sánchez and Samaná, were part of the areas where beach and river cleanups were carried out.
It is important to note that inadequate waste management has become one of the biggest environmental, health and economic problems in the world. With actions such as these days, we work to conserve and sustainably use the oceans, seas and marine resources for development.
More information
On September 17, the World Coastal, Beach and River Bank Cleanup Day was commemorated, a day on which these days were planned but were postponed due to Hurricane Fiona.
In the Dominican Republic, since 2005, the Ministry of Environment initiated the celebration of this day, involving different organizations and institutions. In the last nine months, assistance has been provided to approximately 35 institutions that have requested support.
Learn More: NATURE