These spaces received 1,107,757 visits in the first semester of 2022, representing revenues of approximately RD$250 million.
Every year, hundreds, thousands and millions of tourists come to the Dominican Republic. This unquestionably moves the economy. In fact, the tourism sector (hotels, bars and restaurants) contributed 5% of the gross domestic product (GDP) in 2021 only directly. Indirectly it was much more with the arrival of more than five million people to the country.
Although the Caribbean island is known for its paradisiacal beaches, in reality they are not the only attraction for foreigners and locals. In that sense, ecotourism plays a fundamental role. These are the national parks, protected areas and scientific reserves. Also included are trails, bird watching routes and mangrove swamps.
According to data from the Vice Ministry of Protected Areas and Biodiversity of Environment, these spaces received 937,070 visits in 2021 and 2022 looks even more promising. Although it still does not surpass the pre-pandemic numbers, between January and June alone 1,107,757 people went to those spaces, with national parks (505,650) and natural monuments (344,124) being the favorites of Dominicans and foreigners. In that same period of 2019, visits totaled 1,255,626.
Protected areas
Dominican Republic is within one of the 36 biodiversity "hot spots" in the world, this is due to the great diversity of flora and fauna that the island possesses, and because of the degree of threat in which they are found. Protected land areas (% of total land area) in the country were reported at 26.24% in 2021, according to the World Bank.
"The role of protected areas is fundamental for the protection of species. These ecosystem services provide ecological, economic and social benefits," the executive director of Red Nacional de Apoyo Empresarial a la Protección Ambiental (EcoRed), María Alicia Urbaneja, explained to elDinero.
Not only do they produce fresh water, but they also feed wildlife species and contribute to the resilience and conservation of communities. They even provide protection against the effects of climate change and natural phenomena, such as hurricanes and cyclones.
However, not everything seems to be beautiful scenery for photographs on social networks. Without the proper care, protection and attention that these spaces deserve, their image could be in danger. The specialist in Ecology and Environmental Management, Miosotis Batista, explains that although there is no study to determine the exact areas that could disappear, she affirms that Miches and Pedernales, municipalities with several protected areas, are the most vulnerable to the effects of climate change.
Jaragua National Park alone, in the province of Pedernales, received 9,571 visits in January 2022. In Miches, meanwhile, is the Laguna Redonda and Limón, which between January and June received 6,235 foreigners and Dominicans.
In that sense, the specialist understands that it is viable and advisable to promote nature tourism. "Thanks to this, many communities have a livelihood. Of course, as long as this promotion is accompanied by an awareness campaign and plans for the proper management of these natural resources," she said.
He also emphasized that if the practices are sustainable, the use of the resources will be beneficial. This is because if the visits are made without knowledge of the place, "of course they can be harmful". He understands that rigorous protocols are needed to avoid this. However, he reveals that in the country "few protected areas have management plans" with identified carrying capacity. "Many do not have park rangers trained to receive visitors, and many do not even have park rangers," said Batista.
The Dominican Republic has a Protected Areas Law 202-04. This law establishes the permitted uses and activities for the different protected areas according to their category and conservation purpose. This means, in María Alicia's words, that tourism cannot be promoted in all of them.
"In general, it is very important to regulate access to these areas, establishing a carrying capacity limit, as well as encouraging visits accompanied by specialized guides trained in ecotourism," she says. He believes that visitor awareness should be promoted and adequate infrastructure should be provided to guarantee sustainable use of natural areas (signage, marked trails, waste containers, etc.).
Economic factor
The Dominican Republic has a system of protected areas made up of 128 areas, which are classified into different categories depending on the conservation target. Access restrictions and permitted activities in these areas vary depending on the category.
Cotubanama Park is the main protected area in the country. Only in the period analyzed in 2022, it received 398,398 visits, of which 393,169 (98.69%) were foreigners and only 5,229 (1.31%) were Dominicans. The general panorama looks the same.
Of the 1,107,757 visits to these areas, 71.98% (797,417) were foreigners and 28.02% (310,340) were nationals. These figures, translated into money, would imply, only in the case of Cotubanama, some RD$196,584,500, for foreign visitors, taking into account that the entrance fee for adults is RD$500 and for children from 12 years of age RD$250. These are estimates made by elDinero.
According to the Sector Law of Protected Areas, which establishes the entrance fees to protected areas, the entrance fees for Dominicans to the different protected areas range from RD$350 for adults to RD$100 for children from 12 years of age. In the case of foreigners, they range from RD$500 to RD$200. On average, Dominicans would pay RD$154 to enter these areas and visitors from other countries would pay RD$260.
With these references -average-, only in 2022, these visits of foreigners generated foreign currency for RD$207 million, approximately. On the Dominican side, it would be RD$47 million. In other words, protected areas are apparently profitable.
As Urbaneja explained, while in strictly protected areas the activities allowed are limited "because they seek to conserve unique ecosystems in the country and of great scientific importance", in the case of protected areas within the category of national parks, the aim is to conserve resources (natural and cultural) so that they can be used by society through various economic activities.
This means that the purpose of many areas in our country is to guarantee the sustainable use of natural resources for economic activities that promote recreation, education and tourism. "We have the basis and a lot of potential to promote ecotourism," assured Urbaneja.
In addition, when indirect expenses for hotel rooms, car rental and food are included, ecotourists spend hundreds of U.S. dollars to enjoy these areas. In addition, there are several lodging options in the country with an ecological focus (such as ranches, camps, etc.), as well as tour operators that offer sustainable excursions. In other words, promoting local consumption and pollution reduction, among others. Likewise, visits and recreational activities in natural areas are being encouraged.
Some examples are whale watching in Samaná, visits to natural parks (Los Tres Ojos, Salto el Limón, Lago Enriquillo), camping in natural parks such as Valle Nuevo, Armando Bermúdez (Pico Duarte) and recreational activities such as hiking, climbing, rafting, among others.
In short, "promoting responsible tourism in these areas could bring benefits in the short and long term, generate funds for the sustainability of their conservation and promote the participation of communities for their protection," said Urbaneja. This, as long as its objective is to raise awareness of their importance, their ecosystem services and how they can contribute to their conservation.
In other words, ecotourism is responsible travel to natural areas that safeguards ecosystem integrity, produces economic benefits for local communities and can promote conservation. In fact, the relationship between people and the environment, ecotourism is a creative way of linking ecological conservation objectives with economic development.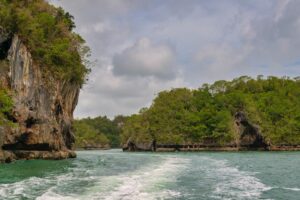 Regulations
Article 20 of the Protected Areas Law 202-04 states: "In the administration and management of the National System of Protected Areas, the Secretariat of State of Environment and Natural Resources must take into account, in addition to its conservation purposes, the use of these natural areas for the development of tourism and ecotourism as a way to increase their economic and social value and contribute to the economic development of the Dominican Republic.
Article 32 details: "The support and promotion of ecotourism through the economic valorization of natural areas and the National System of Protected Areas is a functional obligation of the Secretariat of State of Environment and Natural Resources".
Diversity
Areas that represent a tourist attraction in the country are Valle Nuevo, Monte Cristi Submarine National Park, Enriquillo Lake and Cabritos Island and Los Haitises. Also worth mentioning are Armando Bermúdez, Jaragua National Park, Humedales del Ozama National Park, Montaña La Humeadora sur, Submarino La Caleta, Aniana Vargas, Baiguate, El Morro, La Hispaniola, Los Haitises suroeste, Manglares de Estero Balsa, Máximo Gómez and José de Carmen Ramírez National Park.
The Ébano Verde Scientific Reserve is one of the most important, in addition to La Salcedoa, Loma Guaconejo, Loma Quita Espuela and Villa Elisa. The country's marine sanctuaries are distributed as follows: Bancos de la Plata and de la Navidad, in addition to Estero Hondo (Manatees).
The Natural Monuments include Hoyo Claro, Loma Isabel de Torres, Salto del Limón, Salto de la Damajagua, and El Saltadero Natural Monument. Other protected areas under the Natural Monument category are Catalina Island, Cabo Francés Viejo, Cabarete and Goleta Lagoons (El Choco), Cuevas de Borbón Anthropological Reserve (Cuevas del Pomier), Cabo Samaná, Dunas de las Calderas, Manantiales de Las Barías, Laguna Gri-Gri Natural Monument, Pico Diego de Ocampo, Cumayasa River, Cuevas Las Maravillas, Salto de Jimenoa, Salto de Socoa and Saltos de Jima.
In the Wildlife Refuge zone, Cueva de los Tres Ojos, Laguna Redonda and Limón; Siete Hermanos Cays; Furnia de Gurabo; La Gran Laguna or Perucho; Laguna Mallen; Laguna Bávaro Wildlife Refuge; Ría Maimón and Río Higuamo, better known as the Fuente de Oro.
Learn More: NATURE