Marc Bautil is the creator of the first ecological hotel in the Dominican Republic. Cabarete Ecolodge Hotel is a totally ecological hotel in the country to have a good time and favor the environment, for the enjoyment of Dominicans and tourism in general comes this option.
In front of the beach is this magnificent hotel that gives tourists a more disruptive option to have a good time in the Dominican Republic.
Bautil explains that the use of sustainable resources is the key. For example, he explains that the cost of electricity is very important in a hotel. That is why he works to educate his clients, through incentives to use this resource as little as possible without being extreme. For example, the use of materials such as cane for thermal insulation and encouraging the use of natural ventilation and materials such as bamboo.
Trees and the use of local materials are characteristics of the splendorous hotel, where the natural beauty of the beach is latent. It has a swimming pool in the transverse of the bar and jacuzzi. It shows that you can enjoy a good hotel and favor the environment. As it is in front of the sea you can enjoy water activities.
Who is Marc Bautil?
An environmental advocate of Belgian nationality with 21 years living in the country and raised in Africa with studies in civil engineering. His heart belongs largely to Africa where he observed closely the diversity of nature and animals. Thus came the idea of creating an ecological hotel in Sosua, Puerto Plata.
Marc Bautil, a tourism developer in the Miches area of the Dominican Republic and owner of Cabarete Maravilla Eco Lodge & Beach and the Hotel Doña Elvira in the Colonial City of Santo Domingo.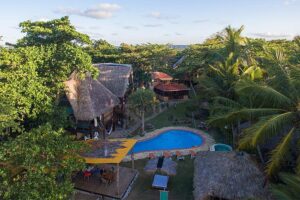 He explained that the area from Uvero Alto to Miches also, with its 50 kilometers of pristine beaches, will allow the construction of 500-room Club Med Miches Playa Esmeralda style hotels, with distributed, individualized architecture, density limited to 20 rooms per 10,000 m2 and blocks of rooms of maximum 10 units, individual bungalow style.
"We must adapt, until the arrival of a definitive vaccine-type solution, mass tourism and mega events will have to wait, finito the cruises, the mega concerts of great artists, the Tomorrowland-type electronic parties, the crowds on the beaches of Ibizza, Saint Tropez, Cancun and Punta Cana".
Eco-friendly hotels, a trend
Other destinations such as Barbados, Saint Bart, Virgin Islands, Saint Lucia, Tahiti, Maldives have specialized in privatized tourism of high level and high satisfaction with high and medium purchasing power, low density and limited environmental impact. A new goal for tourism in the Dominican Republic, privatized, but on a large scale.
"We must focus on improving the protection of nature and essential safety factors, crime, road safety, environmental, gastronomic, hygienic, medical and antiviral," he said.
Souce: Elcaribe.com.do
Learn More: HOTELS