Melissa Klug did not hesitate to take advantage of the winter school vacations that her two little ones, whose father is Jefferson Farfán, are living. The model decided to leave her home and pack her bags to escape from routine.
Destiny took Melissa and her children to the paradisiacal beaches of Punta Cana, a place where she took the opportunity to spoil her little ones, as seen on her social networks.
The Instagram stories of the popular "Blanca de Chucuito" showed how she had a good time in every activity she did in this area of the planet, especially enjoying the weather.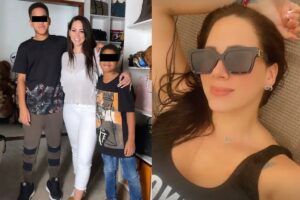 They are staying at the Hilton La Romana hotel, where they have been seen dining and enjoying the pool at night. "A commercial and back," was the caption Melissa Klug posted on her social networks in order to tell that she was going on a trip.
Unlike other occasions, this time Melissa Klug could not travel with her boyfriend Jesus Barco or with her three older daughters, nor with her little granddaughter, as she was only seen with her two sons.
Learn More: Entertainment