The Casa de Campo resort inaugurates on Monday the new Premier Suites rooms and a Spa center, which are part of the expansion project involving a total investment of US$90 million. President Luis Abinader will attend the ceremony.
The Spa center has all the facilities and world-class amenities such as hydrotherapy area, cabins for specialized treatments, relaxation areas, and an exclusive VIP suite.
On November 13, 2021, President Abinader, together with the executives of the resort and the Central Romana Corporation, broke ground on the first phase of the project, which has already been completed.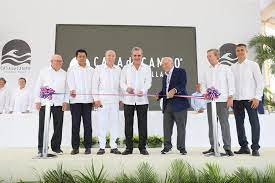 The expansion works of Casa de Campo Resort & Villas are part of a development project that will be carried out in several phases and will generate 500 direct jobs between construction and operations.
Construction work for the next stages of the resort expansion project will begin this summer.
The event
This Monday the inauguration ceremony, at 12:30 pm, will be led by President Abinader, the Minister of Tourism David Collado, the main executives of the board of directors of Central Romana and the president of Casa de Campo, Andrés Pichardo.
The new 76 sq. mt. suites are distributed in four two-story buildings, overlook the golf course and are equipped with the latest technology and amenities offered by the hotel industry.
The Spa center has a construction area of 1,700 mts2 overlooking the central lake.
When the first shovel was turned in November 2021, Pichardo said that with these investments they were continuing to increase the value and quality of the resort, reaffirming that "our exclusive range of services satisfies the demand of the most demanding visitor, and with this we continue to be a benchmark as a tourist destination".
Casa de Campo Resort has been one of the pioneers of traditional tourism and real estate in the Dominican Republic.
Source: Elnacional.com.do
Learn more: REAL ESTATE