Due to their architectural design, these homes will allow a good connection with the work, recreation, education and urban services required by the inhabitants of the area.
CBS Developments presented a modern housing project of more than six thousand low-cost homes for the eastern zone of Santo Domingo. "Arrecifes del Sol" will have three types of housing ranging from 54 m2 to 82 m2 , all with three bedrooms and an optimal distribution to ensure a better quality of life for its purchasers.
The project also has recreational areas, such as terraces and private patios for the first and last levels, respectively.
The activity was attended by representatives of the main real estate companies and various economic sectors of the country, who have been committed from the beginning to the urban development led by the real estate construction company CBS Developments, with more than 20 years of experience in the construction sector.
Architect Oscar Torrejón, responsible for the urban design of the project, emphasized that the urban complex is being built under the vision of providing comfortable housing within a safe environment that also provides families with a good connection to work, recreation, education and urban services.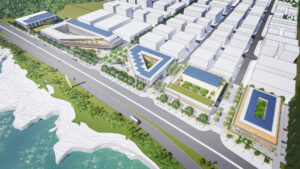 "It is a place well planned urbanistically for the welfare of its inhabitants, where they will be able to enjoy spacious areas in harmony with the environment, as well as sports spaces, commercial premises, among other facilities," he said.
Meanwhile, the commercial director of the construction company, Carlos González, said that "for the acquisition process of the homes, we are working with a favorable and attractive purchase scheme for the people of the capital who value family life, with an integral environment of facilities and areas in the project, according to the current and modern standards of construction".
The activity, held at the JW Marriott Hotel in Santo Domingo, was attended by business partners, special guests, directors and executives of CBS Developments.
The general manager of CBS Developments, Ricardo Mercado, said that "this real estate project seeks to promote socially just, economically productive and ecologically restorative development, it is an initiative that as a company inspires us to make a positive change, combining good architecture with the commitment to create comfortable and safe living areas for the communities of the East Zone of Santo Domingo.
Learn More: REAL ESTATE