Noriega Group announces a master real estate plan for 2023; they have more than 700 units under construction.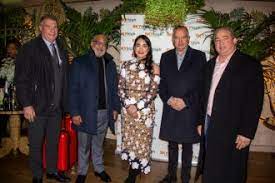 Real estate tourism is a reality in Bávaro-Punta Cana. That is why at the International Tourism Fair (FITUR), held in Madrid, Spain, important real estate developers of the Municipal Tourism District are present, among them Eduardo Noriega, president of Noriega Group.
The businessman envisions a "very successful" 2023 due to the economic proactivity and dynamism that is seen every year in the Dominican Republic, achieving to close December with almost nine million tourists.
Noriega expressed feeling excited, since as a real estate developer, he sees a 2023 "quite ambitious" and believes that "the demand for the Dominican Republic, both tourism and foreign tourists will continue to grow year after year".
The businessman explained that Noriega Group started in Punta Cana Resort, later expanding to Downtown and now in Vista Cana, where about 350 units are being developed in two different projects, while in Downtown he said that about 400 units are being built. He also said that for this year "a very interesting master plan is coming, with which we intend to be part of the impulse of the East of the country and support each other… The idea is to work hand in hand and make the Dominican Republic flow as a country and as a tourist destination".
Eduardo Noriega valued attending the fair, since "it is a niche real estate market where both the hotel and real estate sectors are connected. It is always good to come to this fair for networking".
Source: Bavarodigital.net
Learn more: REAL ESTATE