The real estate marketing company OB Marketing Advisor participated in the renowned real estate fair Chicago Build, in the United States, where it presented the attractions of tourism in the Dominican Republic through the Cana Rock project, located in Punta Cana.
Held last October, the Cana Rock series of apartments were exhibited, an exclusive real estate project that promises to be the most profitable for homeowners in the Caribbean, with a high annual profitability.
It also includes the Hard Rock Golf Course, one of the most spectacular golf courses in the region, designed by Jack Nicklaus, considered the best golfer in history.
OB Marketing Advisor, through these presentations seeks to expand the promotion of DR real estate tourism, is a company specializing in advertising services, photography, audiovisual production, social media marketing, branding, promotional billboards and ads on giant screens, such as those seen in New York's Times Square.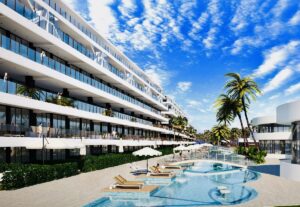 During the celebration of the Chicago Build, Dominicans in the Diaspora had facilities to obtain real estate in the Cana Rock project, either for vacation or investment purposes.
It is recalled that Chicago Build is the largest construction, design and real estate fair in the Midwest of the United States and returned in style at the McCormick Place convention center in the city of Chicago.
The show featured hundreds of exhibitors and more than 300 speakers and featured AIA CES workshops, a Construction Festival, as well as exclusive free networking events including Meet the Buyer, Women in Construction and Diversity in Construction, entertainment, live music and more.
Show attendees had the opportunity to come in contact with major construction projects while connecting with leading architects, contractors, real estate agents, major developers and homebuilders.
Learn More: REAL ESTATE