Emilio Bonifacio and his extraordinary performance during the postseason of the 2022-2023 championship had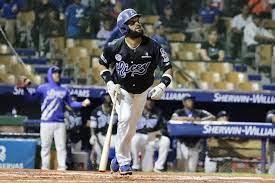 another reward: Most Valuable Player of the Round Robin presented by Pizza Hut.
Winter League Section
The Dominican Republic Professional Baseball League (LIDOM) announced this Thursday the selection of the Tigres del Licey outfielder, who received 46 votes cast by the jury made up of 69 communicators nationwide.
The Licey captain won by a wide margin over Jaimer Candelario, third baseman of the Toros del Este who reinforces the Estrellas Orientales. Candelario obtained 14 votes.
Gustavo Núñez, also of the Estrellas, and Tigres designated hitter Jorge Alfaro were favored with three ballots each. Andy Otero, pitcher for the San Pedro de Macorís-based team, got two votes and his teammate, lanky starter Lewin Díaz, appeared on one ballot.
LIDOM and Pizza Hut will present Bonifacio with a trophy as well as a cash prize during a ceremony before the third game of the Final Series this Sunday at the Quisqueya Juan Marichal Stadium.
Bonifacio led the Round Robin of the championship dedicated to the memory of the communicator Don Tomas Troncoso and in option for the Banreservas Cup in the categories of runs scored (16), runs batted in (13), triples (3), stolen bases (5) and was second in hits (66) and doubles (5). He gave up 20 hits and batted for a .306 average and played impressive defense in center field.
The Tigers advanced to the Final Series with a 10-6 record, the same record as the Estrellas, their opponent in the final round of the championship, to trigger the conclusion of this phase in 16 dates.
Source: grandesenlosdeportes.com
Learn more: SPORTS