Crismery Santana lived up to her Olympic champion status after her outstanding participation over the weekend in the weightlifting qualifier for the Central American and Caribbean Games of El Salvador 2023.
Santana won three medals in the over 87 kilograms category, two silver and one bronze at the closing of the event that was held with great success in the weightlifting pavilion of Parque del Este.
The Dominican Republic closed the event winning 12 medals, including five gold medals. Santana, Yudelina Mejía, Ander Paniagua and Ezequiel Germán won four silver and three bronze medals.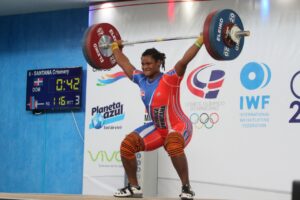 The weightlifter took second place in the snatch with a lift of 111 kilograms, first place in the lunge with a lift of 146 kilograms and second place in the total with 257 kilograms. "I am happy, but not satisfied, because I came to win the category, I missed two attempts in the snatch and that deprived me of winning the competition outright.
"I want to give credit to my rivals," the Dominican maintained.
Source: Hoy.com.do
Learn More: SPORTS