Professional kitesurfer, Deury Corniel, managed to set the Dominican Republic's Wing Foil speed record by exceeding a speed of 64 km/h (40 mph).
The feat took place in the "Siete Hermanos" cays, a group of islets located northwest of the coast of Monte Cristi.
"Once there, I found the perfect conditions: flat water, wind exceeding 15 knots and paradisiacal beaches." Deury expressed, when describing the perfect scenario, after traveling the entire country to break for the first time the Foil speed record never before set in the Dominican Republic.
By setting this new record on the water, Red Bull athlete Deury Corniel sets a precedent in the risky sport of Kitsurfing and Foiling. In addition, he confirms that his talent for kitesurfing has no limits, since he not only shows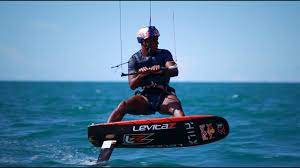 his ability for freestyle kitesurfing, but also for this new passion, Wing Foil; discipline that he has been practicing professionally for a year.
"I always saw Wing Foil as a sport that I was passionate about, but I never thought that today it would be a discipline in which I would be competing at a professional level, in search of an Olympic medal. I have been practicing it professionally for less than a year, and I am already competing at an elite level with people who have more than 10 years in the discipline," added Corniel.
In this year 2023, Deury will focus more on this new discipline, with a view to qualify for the Olympic Games in Paris in 2024, and thus be able to raise the flag of the Dominican Republic once again, and for this he will participate in the most important Foil events in the world.
About Wing Foil
Wingfoil is a new discipline of gliding over the water that consists of flying over the water with the help of an inflatable wing (WING) that is handled with the hands, and with a board with a foil on the feet. The sport has evolved a lot in recent years attracting all types of users, from kiters and windsurfers who already know how to sail in the wind, to users who have never practiced any sport in the wind, including people of all ages, complexions and knowledge of the sea.
Source: Robertocavada.com
Learn more: SPORTS