The women's weightlifters had an outstanding performance in the Qualifiers for the Central American and Caribbean Games, Santo Domingo 2023, held in Parque del Este.
The Quisqueyanas accumulated 688 points to finish in third place in the event, surpassed by Colombia and Venezuela, which finished with 776 and 709, respectively.
Mexico was fourth with 656 points, followed by Costa Rica, with 334; Cuba, 304; Puerto Rico, 298; Haiti, 182; El Salvador, 171.
Among the women champions were: Rosieles Quintana, from Venezuela, won the title in the women's 45 kilograms category.
Colombia won the titles in the 55, 59 and 64 kilogram divisions, with athletes Rosalba Morales, Yenny Álvarez and Nathalia Llamosa. Her teammate Hellen Escobar won the 76 kg crown.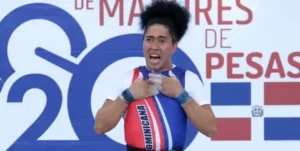 Yaniuska Miralba, from Cuba, was the champion in the 71 kg; the Dominican Yudelina Mejía dominated the 81 kg, the Venezuelan Dayana Chirinos was the winner in the heavyweight (87) and in the +87 (super heavy) was Naryury Pérez, from Venezuela.
In the men's division, Colombia once again won first place, thus becoming the absolute champion of the qualifier, dominating five of the ten divisions that were disputed among the men. Venezuela again took second place and Mexico was third.
The Dominicans came in fourth place among the men. The Colombians totaled 796 points, against 685 for the Mexicans, 684 for the Venezuelans and 683 for the locals.
The competition was organized by the Dominican Weightlifting Federation.
Source: Acento.com
Learn More: SPORTS