The Office of the National Baseball Commissioner of the DR and the South African Baseball Union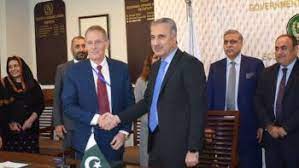 signed this Thursday a "transcendent memorandum" in which both entities will implement programs aimed at raising the technical quality of baseball practiced in South Africa.
This is stated in a document sent by the Dominican entity, which assures that the Caribbean country will carry out exchanges of players, coaches and umpires with the African nation "to raise the practice of baseball in South Africa and its continent".
Other aspects of the agreement include organizing seminars, conferences and workshops on topics of mutual interest related to baseball, as well as inviting each of its members to participate in them.
This memorandum represents a project set in motion for "baseball to serve as a tool to strengthen the rapprochement between the republics of South Africa and the Dominican Republic," the document added.
"Our knowledge and capabilities in baseball will contribute to the development of that sport in South Africa, but at the same time our country benefits from becoming a reference for technical cooperation in sports. Likewise, our allies contribute to the promotion of the sport in non-traditional markets," added the Office of the Dominican Baseball Commissioner.
The agreement was signed by the legal consultant of the Office of the National Baseball Commissioner, Carlos Solano, and the president of the South African Baseball Union, Marc Moreau, in one of the halls of the Dominican Foreign Ministry.
Moreau expressed his "infinite gratitude" for the opportunity to strengthen ties between both nations using baseball as a focal point, added the information.
South Africa participated in the first two versions of the World Baseball Classic, in 2006 and 2009, and last year failed to qualify for the edition to be held next March with the participation of 20 teams.
The Dominican Republic is one of the most developed baseball nations in the world and in 2013 it won the World Classic undefeated.
Source: Acento.com
Learn more: SPORTS