For the second year, Meliá Hotels International celebrates the "Meliá Golf Challenge" in Punta Cana, with Amazon as the main sponsor and the organization of Summum Golf, an agency specialized in golf tournaments and circuits.
The absolute accumulated winners were awarded with trophies and stays at Paradisus Palma Real, in second category Mr. Juan Tomás Galmes with 109 accumulated stableford points, a prize presented by the Honorable Consul Mr. Pablo Gómez de Olea. With 103 stableford points, the first category winner was Mr. Mateu Balaguer, to whom the trophy and prize was presented by the Spanish Ambassador to the Dominican Republic, Antonio Pérez Hernández.
Other collaborators such as Wilson, Depique, Holiday Golf, JLindeberg, WhatBunkers, Ron Barceló, provided succulent prizes for the winners and details to the great draw that culminated this second edition in the Dominican Republic, a golf paradise par excellence with a wide range of courses in the highest and most recognized international golf rankings.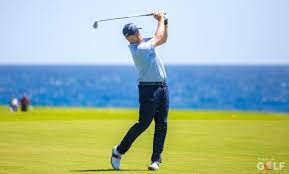 Meliá Hotels International's commitment to the golf segment began more than fifteen years ago, with its own annual amateur golf circuit throughout Spain, participation in different amateur and professional circuits at national and international level, several resorts with golf courses under its own management in Spain and the Dominican Republic, and a growing group of hotels in mature and emerging golf destinations where this segment and sporting offer has already become one of the main reasons for travel and enjoyment of players.
The newly renovated Paradisus Palma Real and the new Falcon's Resorts by Meliá brand delighted participants with a luxurious all-inclusive stay and relaxation.
The host courses of the Meliá Golf Challenge in this edition were La Cana (Tortuga & Arrecife), which surprised the participants at the beginning with a short and intense downpour, but where a course in perfect conditions and spectacular greens gave the victory in second category to Mr. Juan Tomás Galmes and in first category to Mr. Josep María Estévez.
Cocotal Golf & Country Club, a course managed by Meliá, also hosted the shot another day, in its Hibiscus and Bouganvillea courses, previously enlivened by a Relaxation Tee with massages by YHI Spa & Maia Spa and, during the golf day by a tasting stand of Ron Barceló that all the players could taste. The winner of the second category was Mr. Marcos Agostini and the winner of the first category was Mr. Carlos Rovira.
The third and last day of this Challenge took place at Punta Espada, a windy day, but where the players enjoyed a spectacular course, perfect fairways from tee to green and spectacular views. The winner was Mr. Jeff Steinhart in the second category and Mr. Mauricio Urrutikoetxea in the first category.
At the Gala Dinner and subsequent Awards Ceremony as the culmination of the week, there were special awards for Best Lady Handicap for Ms. July Verspeeten and Scratch Award for Mr. Jesús Sabriá.
Source: Acento.com
Learn more: GOLF