The Xanadu Golf Cup will be played in the Best Ball modality in pairs.
The Hodelpa chain announced that it will hold the Xanadu Golf Cup, II Hodelpa Couples Golf Circuit, at the Playa Dorada Golf Course, in Puerto Plata, from October 7 to 9, 2022.
The Xanadu Golf Cup will be played in the Best Ball modality in pairs, in two rounds, where the winning pair will have as a prize the representation of the Dominican Republic in the final of the Internationals Pairs.
That golf event will also be held in Andalusia, Spain from November 17 to 21, where the winners of the Xanadu Golf Cup will attend with all expenses for airfare, lodging and participation in the tournament covered.
Hodelpa informs that after the first round of competition, on Friday, there will be a cocktail party to welcome the participants, sponsored by ProCigar, with a tasting of rums and cigars, and will conclude on Saturday with an awards party on the beach, at its new Xanadu by Hodelpa facility, in Playa Dorada.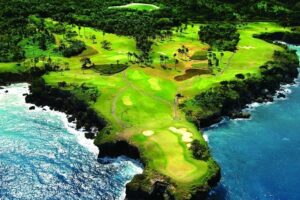 Unlike other cups, Hodelpa gives golf a social character in alliance with the Internationals Pairs Organization, to offer an experience where participants enjoy a different weekend, with a sporting spirit to emerge victorious in a good fight.
Among the sponsors and collaborating brands that will make this activity possible are: Constructora Morrobel, Banreservas, Sentinel Seguros, Banco Caribe, MAPFRE Salud ARS, Avis Rent a Car, ProCigar, and United Brands.
Sports facilities
Among the amenities and facilities offered by Hodelpa for sports tourism are locations close to the competition centers and properties adapted to the different lodging options demanded by the public.
In addition, Hodelpa has personnel specialized in sporting events, knowledgeable about the discipline and the needs required by participants to guide their participation in the tournament, regardless of the socioeconomic segment of society of the guests.
Learn More: Gorlf