The shortstop continues to be on fire at the start of the season and singled in the third against the Detroit Tigers.
Rafael Devers is officially starring in one of the hottest starts of his Major League Baseball career. The shortstop hit a grand slam against the Detroit Tigers on Saturday, April 8.
The Dominican opened the gap for the Boston Red Sox at Comerica Park to take the lead against the Tigers. It was the third home run for the native of the Dominican Republic in the current Major League campaign.
The pitching of the Bengals made the mistake of putting the bases loaded for the Querétaro, who did not forgive the pitching of the reliever Garrett Hill to disappear to the opposite side through left field and put the scoreboard six runs to zero, in the top of the second inning.
The home run crowned his performance with the lumber at the beginning of the year and tied with Wander Franco as the Dominicans with the most home runs in the 2023 campaign. The four-cornered blast came at a speed of 102 miles per hour and traveled a distance of 356 feet.
In his second plate appearance, Carita put together a six-run homer for the Reds in the second inning to tip the scales early in the game.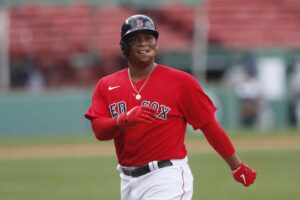 Raffy left his numbers at .333 average with three homers, eight RBIs, 11 hits, eight runs scored, three doubles, one walk and an OPS of 1.050 in 33 at-bats.
With a 3-4 record, Alex Cora's team is looking to get back on track in this start and go for their fourth win to even their record in the first eight games of the year.
THE SECOND OF THE AFTERNOON
The grand slam was not enough for Devers and he unloaded his second home run of the afternoon at Comerica Park through right field to bring the Red Sox ninth score.
The shot was blasted at a velocity of 110.3 miles per hour and fell 395 feet short of the plate. It was the 13th multi-homer game for the shortstop.
Source: Record.acento.com.do
Learn More: SPORTS