The tournament, to be held March 20-26, 2023, is expected to be attended by more than 15,000 people.
Puntacana Resort & Club announced the sixth edition of the Corales Puntacana Championship PGA TOUR Event, to be held at the Corales Golf Course, March 20-26, 2023.
This event has a purse of US$3.8 million valid for 300 FedExCup points, the highest in the history of the Dominican sport, and the participation of 120 players from 20 countries and 5 continents.
"The Corales Puntacana Championship has become a flagship event for Puntacana Resort & Club. It fills us with joy and pride to continue the tradition of celebrating a unique sporting event in the country, which also promotes the Dominican Republic and Punta Cana worldwide as a leading golf destination in the Caribbean," said Francesca Rainieri, Chief Financial Officer of Grupo Puntacana.
The information was given at a meeting with executives of the Puntacana Group, attended by Rainieri, Enrique Valverde, president of the Dominican Golf Federation (Fedogolf); Manuel Sajour, executive director of Marketing of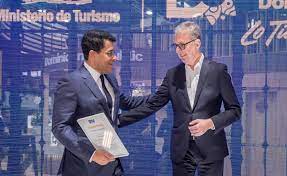 the Puntacana Group and director of the Corales Puntacana Championship; and Hiram Silfa, director of golf courses at the Puntacana Resort & Club.
"As the regulatory body for golf in the Dominican Republic, we recognize the importance of having the Corales Puntacana Championship PGA TOUR Event, the country's main golf event, for the 6th consecutive year, for the international projection of the country's sports tourism and for the local golfing community," added Enrique Valverde, president of Fedogolf.
So far, past tournament champions Chad Ramey (2022), Joel Dahmen (2021) and Brice Garnett (2018) are confirmed; as well as Nate Lashley and Dominic Bozzelli, winners of the Korn Ferry Tour in 2017 and 2016, respectively. Similarly, renowned players Charley Hoffman, winner of 4 PGA TOUR victories and director on the PGA TOUR Player Advisory Council; Bill Haas, past winner of the FedExCup; Jonathan Vegas, Venezuelan player with several PGA TOUR tournament wins; and
Emiliano Grillo, winner on the PGA TOUR and top-ranked player in Latin America on the circuit.
Meanwhile, local talent will be represented by Dominican players Juan José Guerra, Radhamés Peña and Hiram Silfa, who in addition to Puerto Rican Chris Nido, qualified through their participation in the Canita Tour.
The tournament has a reach of 4.8 billion impressions in digital and print media nationally and internationally in 153 countries, reaching 3.4 million viewers in the United States.
The event will feature a wide variety of recreational activities, food trucks, skybox, live music, entertainment for the whole family and a general parking area from Thursday through Sunday, starting at 5:00 p.m. To purchase day passes and tickets for the four days of competition, those interested can visit www.Tuboleta.com.do, the Visitor's Center at Puntacana Resort & Club, and at Will Call beginning Wednesday, March 22.
Source: Acento.com.do
Learn more: SPORT