The series kicks off on Thursday in Caracas from February 2 to 10.
Dominican airline Sky Cana was chosen as the official carrier of the Tigres del Licey team, which will represent the Dominican Republic in the 2023 Caribbean Series to be held in the city of Caracas, Venezuela, from February 2 to 10.
The agreement was signed by Vitelio Mejía Ortiz, president of the Dominican Professional Baseball League (LIDOM) and Frank Díaz CEO of Sky Cana. The official delegation will travel with the members of the Dominican Baseball champion team.
The Tigres del Licey will fly to Caracas next Wednesday, February 1st from the José Francisco Peña Gómez International Airport of the Americas in the morning. Sky Cana will use an Airbus A320 aircraft with 180 seats.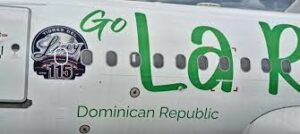 The players will be accompanied by journalists, family members and relatives. The aircraft was labeled with the Licey crest as well as other amenities worthy of the occasion.
"We dare to affirm that the Dominican Republic will once again bring back the crown of this international competition," said Mejía Ortiz, president of LIDOM.
The Tigres del Licey, winners of the Dominican winter championship, will face teams from Mexico, Venezuela. Cuba, Panama, Puerto Rico, Curacao and Colombia, the team that won the 2022 series.
This is the second time Sky Cana serves as the official carrier of the Dominican team to the Caribbean Series. In 2021, it moved the country's representation to Mazatlan, Mexico.
About Sky Cana
Sky Cana is a 100% Dominican owned airline. It currently has a fleet of nine Airbus aircraft. Last year it carried out 3,458 operations and transported 325,000 passengers. It is characterized by bringing new forms of business in Dominican commercial aviation. Its executive and technical team is integrated by professionals with great expertise in the aviation industry. It is the only company with 100% Dominican investment capital that operates aircraft with a capacity of more than 150 passengers and transatlantic flights.
Source: Diariodigital.com.do
Learn more: SPORTS