Vladimir Guerrero Jr. was announced to play with the Leones del Escogido in Dominican winter ball on two occasions, but did not suit up with the team that was disqualified in the regular round.
The young Toronto Blue Jays player follows in the footsteps of his father, Vladimir Guerrero Sr.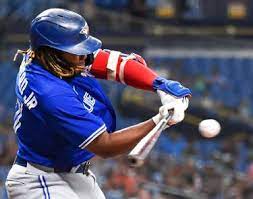 , at the end of each season and closer to the start of spring training, he was a spectacle at the playground of Don Gregorio, his native community, a municipality belonging to San Cristobal, in the South of the Dominican Republic.
Guerrero, who was signed as an outfielder, transitioned to the 2022 season as a starter for Team Canada.
Every day Vladi-Jr. completes several rounds of batting, where you can see his "mammoth power", sending balls a long distance out of the part and was captured and published in a twitter of Hector Gomez.
He is preparing to be part of the Dominican team that will participate in the World Baseball Classic, in the Group of the Americas, where they will compete with Puerto Rico, Venezuela, Israel and Guatemala, a circuit that will play in March, in the city of Miami, United States.
In the Major Leagues
Last season he played in 160 of the 162 official games of the team; he appeared 706 at home plate, 638 official innings, 90 runs, 175 hits, average of .274; 35 doubles, 32 home runs, 97 runs batted in, 58 transfers and 116 strikeouts.
In his four seasons in the Major Leagues he accumulates leadership in games played, 60 in 2020; runs scored, 123, home runs, 48, OBP, .401 in 2021.
His projection for next season is to finish with an average over .290; 89 RBI; 31 home runs, according to Baseball Reference.
Source: Diariolibre.com
Learn more: SPORTS