It is positioned as the first company in the Dominican Republic to offer a show with more than 100 illuminated drones that surprised those present with the graphic representations exposed in the open air.
AION Drone Light Show, a company specialized in flights based on state-of-the-art technology, announced its entry into the advertising market in the Dominican Republic with a drone show.
During a light show, the firm launched an advertising service proposal that generates unique experiences for brands that, by this means, will be able to create a narrative about their goods and services with the purpose of conquering markets.
AION Drone Light Show is positioned as the first and only company in the Dominican Republic to offer a show with more than 100 drones illuminated with graphic representations exposed outdoors.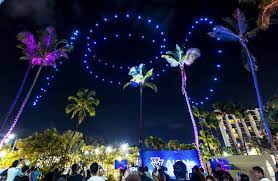 During his welcoming remarks, Cristian Muñoz, general manager of AION RD expressed that the firm represents the new generation of entertainment in the country and promises to offer unforgettable experiences to its clients.
Expanding its services in the local market and offering the country the best of both worlds is a signature purpose of AION Drone Light Show, guaranteeing quality, safety in the scenarios, care and respect for the environment, with the particularity of offering a show that "can be designed and animated in 3D to create a unique and personalized experience for each client and spectator".
In this order, Luis Neri Olivero, specialist in flight operations of the Dominican Institute of Civil Aviation (IDAC), said that as an institution they recognize that modernity and technology are constantly evolving and that the regulations on the matter will advance to make way for activities that allow the use of drones for entertainment purposes and are in line with technological advances.
AION Drone Light Show has been the company in drone shows in Mexico and worldwide since 2019, counting with more than 300 drones ready to fly and having performed more than 100 shows in different countries with more than 100 thousand spectators.
It combines the experience and creativity of both companies to create experiences in the Dominican Republic, with drones that are environmentally friendly and have a Zero Noise policy, making them ideal for events where a stunning visual experience is required without causing disturbance to the environment.
The average duration of a drone show is 10 minutes, longer than a fireworks show, and the maximum height reached is 70 meters, which guarantees an impressive visibility for spectators.
AION RD has licensed pilots with experience in private and military aeronautics, which guarantees maximum safety during the shows. Drone shows can be performed in a variety of scenarios, such as beaches, stadiums, arenas, hotels, brand launches, music festivals, weddings, concerts, openings and many others, always with the highest standards of quality and safety.
Source: Acento.com.do
Learn more: TECHNOLOGY