Today, when working from home, video conferencing and home offices have become the norm, connectivity is key. Offering excellent performance, enhanced design and the ability to enjoy an office-like environment virtually anywhere, the new Smart Monitor M8 from Samsung Electronics is an all-in-one display that was created to meet the lifestyles of modern consumers.
As versatile as it is powerful, the Smart Monitor M8 2022 comes packed with enhancements that adapt to consumers' changing needs. These include a choice of four colors that blend well with any space (Warm White, Sunset Pink, Daylight Blue, and Spring Green) an ultra-slim design, which is less than one-third the thickness of the previous version; a monitor stand that allows users to freely adjust its height; and the device's Workspace feature, which allows users to manage all their work-related services on a single screen. Small enough to fit in the hand, the SlimFit Cam is a particularly useful camera that can be easily connected or disconnected, allowing you to use your space in a versatile way, such as a home office.
With new levels of connectivity, the Smart Monitor M8 is a landmark launch for the home office era.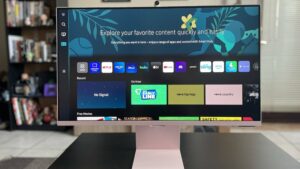 Creating the perfect home office environment, even without a PC
In the era of work-from-anywhere, it can be quite daunting to manage urgent tasks without access to a PC. The Smart Monitor M8 eliminates that concern by allowing you to work without a PC as long as there is a Wi-Fi connection.
The device's Workspace feature combines all work-related services on a single screen, while the included Microsoft 365 cloud service1 allows users to manage files using programs such as Word and PowerPoint, even without a PC.
The Smart Monitor M8 also supports Samsung DeX, allowing Galaxy smartphones to support a PC-like experience, making it easy to connect to the monitor and launch multiple tasks. In addition, the monitor is equipped with Eye Saver mode and Flicker Free technology to minimize eyestrain and prevent flicker.
Enjoy OTT services to the fullest
When you feel like sitting back and enjoying a show or movie, the M8 Smart Monitor transforms into a TV thanks to the integrated Smart Hub, which features various OTT services such as Netflix, Disney+, YouTube and more.
Learn More: TECHNOLOGY